Ella's Bubbles Walk-In Bathtub Reviews and Testimonials
What Customers Are Saying About Us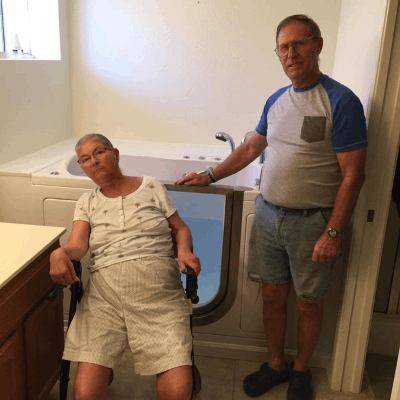 We are very happy with our tub. We had no problems with installation as we used the company installer though it did take longer than expected to install. The tub itself provides a lot of relief to tired muscles. Even our granddaughter loves it as an inside "pool". We ordered the factory "shower doors" but are returning them as we don't need them.
Read More
With the handheld shower faucet, we are able to rinse off without making a mess. Our tub does drain very quickly which was a definite selling factor. It is also very nicely designed and looks nice in our bathroom. Thank you…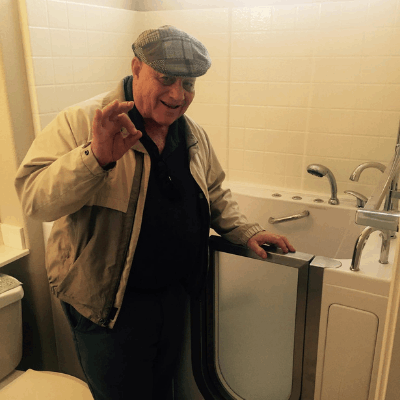 My Wife and wanted to remodel our master bath. We wanted the update to include a two person soaking tub. Our problem was we were limited to 60 inches in length which was what our old tub was. The only tubs we could find that could fit were Japanese style soaking tubs.
Read More
They are very nice, very deep and therefor tall. We would need a ladder to get in and out of it. Continuing our search we discovered Ella's Bubbles "Tub 4 Two". It fits into a 60 inch space, is tall and deep for soaking, and has a door for easy entry. Problem solved and it is incredible. It is the center piece of our remodeled master bath. It fills fast, is very comfortable to sit in, and when done drains super fast. Ella's delivered the tub right to our home, and our contractor installed it with no issues. Absolutely check out Ella's if you want a great tub.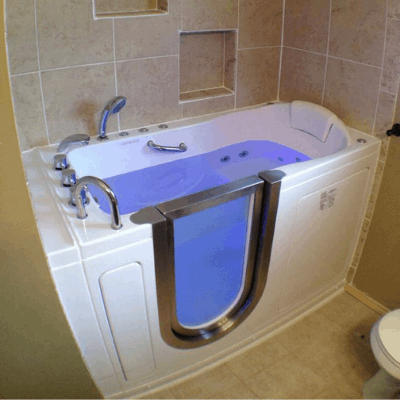 I am an 82-year-old retired engineer, who expects, the old fashion, Strong and Reliable American made quality product of years past. We all have gotten blinded by well know Companies, touting a low-priced product, listing lots of features plus free give-a-ways.
Read More
I researched walk-in tubs for over 2 years, collecting and storing pictures and specifications, in my Microsoft," One Note" Program for later side by side comparisons. Ella Bubbles Tub met and exceeded all my requirements!
I purchased the Ella Ultimate Walk-in tub, with the following Optional features:
1. Heated Seat and Backrest
2. On/Off Push Controls
3. 4-Fold Bath Glass Screen Doors
4. Huntington Brass-Roman Tub Faucet w/Diverter to control "my AFA Stainless Multi-Function Hand Held & Rain Head Shower System.
To support the operation of my Ella Ultimate Tube, I had my installation contractor perform the following plumbing modifications:
1. Two independent, 2" drain connections, attached directly to my 4-inch soil stack
2. ¾ inch Hot and Cold supply lines, attached directly to my tub filler
3. Replaced my 40-gallon hot water heater, with an 80-gallon hot water heater, plus an additional external heat booster, giving me an additional 45% hot water capacity, equaling now 120 gallons. This allows me to take an unlimited hot shower before taking a long hot soaking tub bath at the same time.
To prevent the buildup of condensation I had my Contractor install a Humidity Sensing Bath Fan above my Ella Ultimate Walk-in tub.
Onyx Surround was added to the wall around the tub area, to water proof & protect, plus make easy after bath clean-up.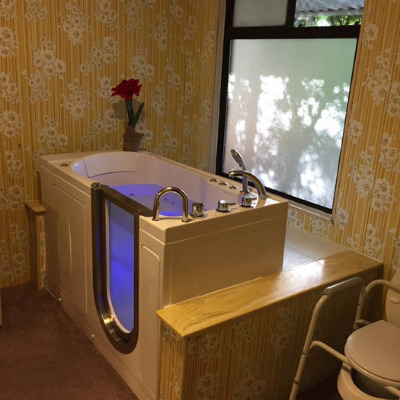 We (DYI) installed the Ultimate – Inward Swing Door Walk in Bathtub during a complete bathroom remodel this past January – February 2020. We also installed a curb-less walk in shower during the same project. The project was done to help care for my wife's 95 year old father.
Read More
Hands down he prefers the Ella Tub. The walk-in Tub is well designed with the grab bars in the right place it is easy for him to get in and out of. With all the strategically located water and air jets. hygiene and relaxation are optimum for him. Although my father-in-law is the primary user of the Tub, all of us enjoy using it occasionally. Also I would like to acknowledge the folks at Ella Bubbles that I consulted throughout the process, in particular Daphne & Sergio, a big thanks to them.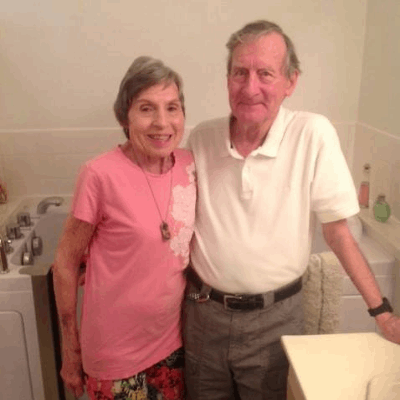 This is a high quality walk-in tub. I chose the REGAL model with a number of the available bells-and-whistles. So far I am delighted with theperformance of this tub. Ihad itinstalled as a substitute for a hot tub, which is not allowed in my community. It is BETTER than a hot tub!

We purchased a Deluxe Ella tub a couple of months ago and are happy with it. After a lot of Internet research we decided on Ella due to its multiple features. We had a plumbing company install the tub and contract some light construction to widen the bathroom doorway to bring in the tub.
Read More
All features (hydro, air, and micro bubbles) worked including purge after use. The water temperature control works well. The filling and draining of the tub takes longer than advertised even with the wide dual (2-4 minutes) drains due to the house water pressure and drainage – not the tub. As stated above, we are happy with Ella.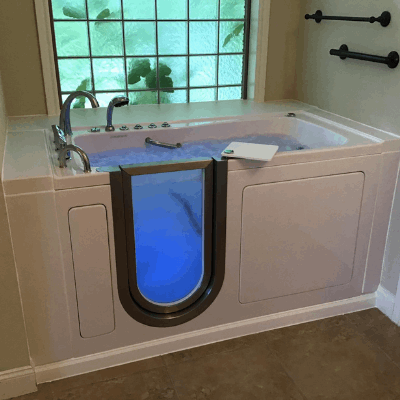 Great company. Fast delivery. Tub is exactly what my wife needed.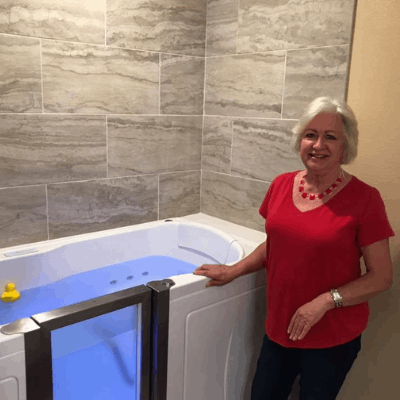 I bought an Ultimate tub last winter for my new home. The experience I had with both the sales rep and the shipping coordinator were top notch. They were so helpful and efficient. I had seen this tub for less, and the sales rep was able to get it price matched for me.
Read More
The tub itself is great. It has all the bells and whistles. It's very comfortable and works like a charm. The quick drain is incredibly fast. I am very pleased with my Ella's Ultimate, and would definitely purchase again. Best tub out there!!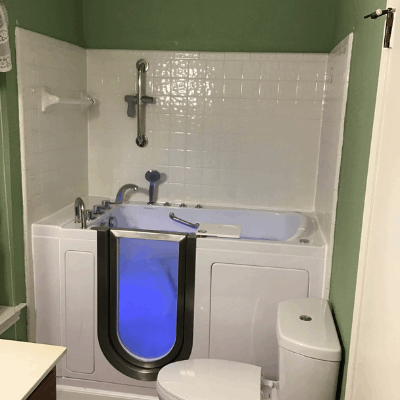 What a great company to work with very responsive very appreciate of of their customers And very quickly and handling problems I recommend them Whole heartedly.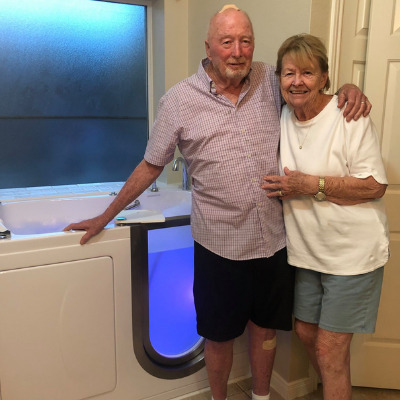 Love our Ella's Bubble tub! We researched other brands available and chose Ella. The function, fit and finish to us eclipses the competition we considered. Two and one-half years later we love it just as much and it has performed flawlessly.
Read More
I have contacted customer service about adjusting the limit on the automatic temperature control valve and I was assisted by Sergio who promptly provided all the information I needed to remove the valve handle and adjust the setting. It was simple with his great instructions.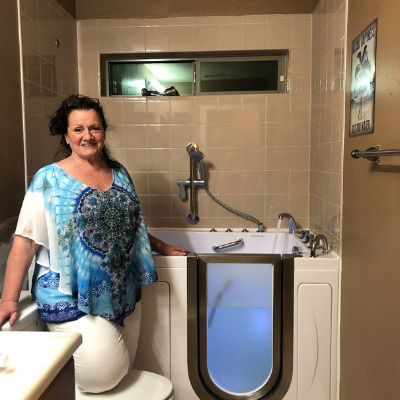 I bought the Ella Elite after much research on walk-in tubs. I could not be more pleased. I am the envy of my family. It is easy to get in and out with it, convenient hand holds. My plumber put in an oversized drain and a full tub drains in one minute. The frosted door makes the tub look elegant. Thank you, it is perfect.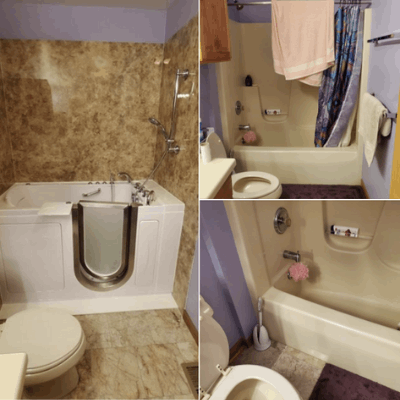 After a lot of research I bought a Ella Bubble walk in tub. Bought the tub from Dafne,and have had some questions,which Sergio has Always been there to help me.I am very impressed with the customer service and the way this company treats me. Brad S.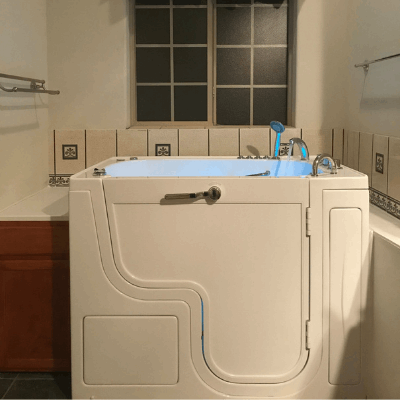 I absolutely love my shower. We purchased a walk in shower due to my wife being in a wheelchair now. In order for her to come home from the hospital I had to have this done. Customer support helped me track down the location of the shower during Transit so that I can pick it up a week early. They were more than happy to help and I greatly appreciate that.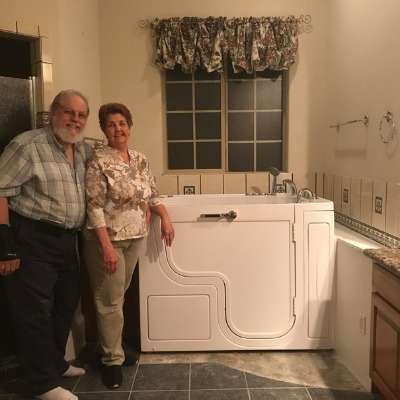 Jim The walk-in tub is new for us and I asked the dealer we bought it from how some of the features worked and he referred me to Ella's Bubbles. I called your technician Sergio ******* and he provided all the information and then some to help me understand our new tub.
Read More
One of the specifics I needed to know was how to turn on the cozy heat bathtub surface heater. And he sent me an email containing the instructions which I later found in my owners manual packet plus he stayed with me when I went to the tub to find button and operate the heater. He also helped me find the model and serial number plus how to open the panel where it was located. I must say it has been a long time since I have had a good experience with a technical assistance department when I have called them to help with a technical problem. I really appreciate not having to go through a bunch of computer responses to get to a real person that knows the answers. Please pass along this review to Sergio so he will know he solved my problems. Maybe you should give him a raise — he is an excellent employee.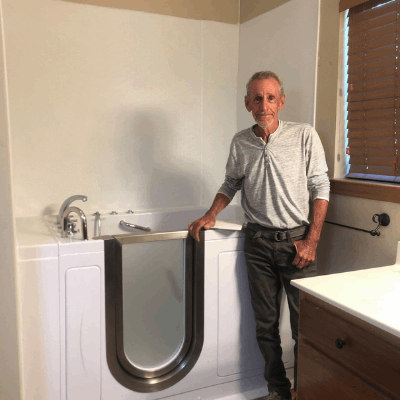 I found Ella's Bubbles while searching through Google and it looked like they had the product that I wanted. Everything went really smoothly with my interactions with their rep. They were very responsive, got me what I needed and took good care of me. I bought the wheelchair-accessible tub and self-installed it. I'm 100% satisfied with my purchase.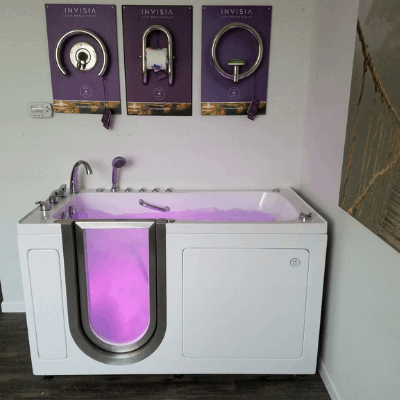 I bought a bathtub for my mother in Oklahoma and I had it shipped, and Ella's Bubbles was quick. They got the tub that I wanted and got it when and where I wanted it. The representatives were nice as well. They did what they were supposed to do, kept in contact and got it done. It's a great tub and my mother is happy with it.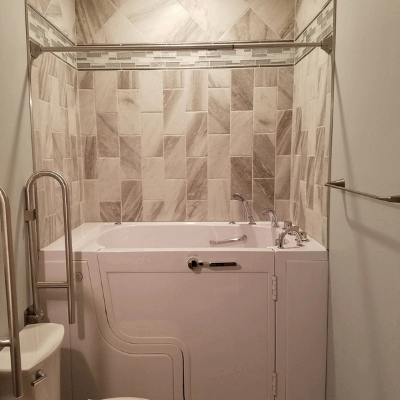 Hey you Guys I received a phone call today from a customer of ours Ms. Wynonna **** . Ms. **** is 86 years young and does not do emails , ******** or anything on the computer but her reason for calling was to thank us for installing her Ella's walk in tub.
Read More
She has really bad arthritis in her back and while she was on the phone she started to cry because of the relief it gives her. She said if she could she would just live in it but she knew she could not do that. She just wanted to thank me and the boys for the Great work actually they done and how they helped her do some extra little things ( which we really dont need to do ). So I thought I would share this with Y'all and see if you could pull out a review from it . A lot of the senior population dont do the computer thing. I guess the best way to put it would be that she was well pleased with her walkin Ella's Tub and it gave her relief for her back issues and she was very Thankful for that. Ms, Winonna **** , Prattville Al We installed her Tub on 8-9-18 Thanks Charlie.


Dream Baths of Baths of Alabama
Ella's Bubbles had more options and the prices were good. I put in over 30 walk-in tubs last year and when I saw the Ella's Bubbles tub, I thought we would try it. Working on the product was easier than the last time because everything is already put together on when I get them. The sales representative was very prompt on getting the process back and since I started dealing with her, I've sold five or six already.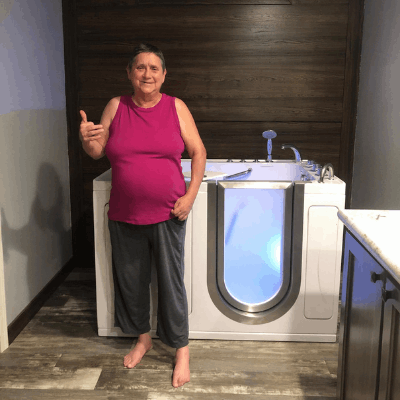 We had Ella's walk-in tub installed in July 2011. I could no longer get my mother into our regular tub & it was extremely difficult trying to use our step up shower. Ella's tub was a daily blessing giving me the ability to provide the care my mom needed.
Read More
Later my husband's father moved in with us. I could not have given him the care he needed without Ella's walk-in tub. All the features made it enjoyable for them instead of a chore. Now that both of our parents have passed away, we have enjoyed it for ourselves. Especially with my recent foot surgery. So thankful for this blessing.


Several of the other "top 5" tubs were insanely expensive. It was a joke. The tub company that came out wanted around $18,500 for the tub and to install it. Ella's Bubbles, on the other hand, had more options and the quality and price were there.
Read More
I bought a Royal from them and we had it modified. We had the hydro jet, the air jet, the micro-bubbles with the heated seats and back rest, the ozone, the inward swing door, fast-fill, double-drain and the essential oils. We also had the light therapy. I was impressed with the sales representatives at Ella's. The rep answered all my questions about anything that I wanted and was helpful. I've recommended Ella's Bubbles and my boss is probably gonna buy one.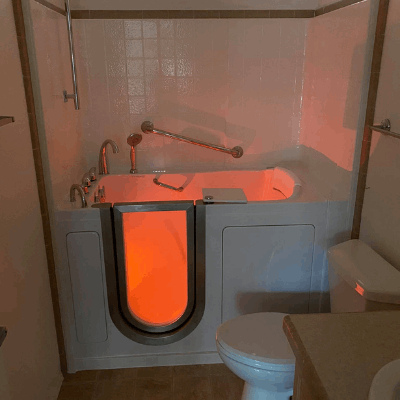 My mom loves the tub, she has Parkinson's and over the course of 4 months fell and broke both hips plus a dislocation of the first hip she broke. As a result she was unable to get in and out of her original tub. She's 80 and this tub had been a life saver for her.
Read More
She has a helper 3 days a week that assist her hair washing, but she is able to wash herself and maintain her Independence in her home alone. And the one time I needed help with something on the tub, Sergio was fantastic! He went above and beyond to help. He sent me the part immediately, and even registered the tub after the original installer went out of business when I had no paperwork to show for it.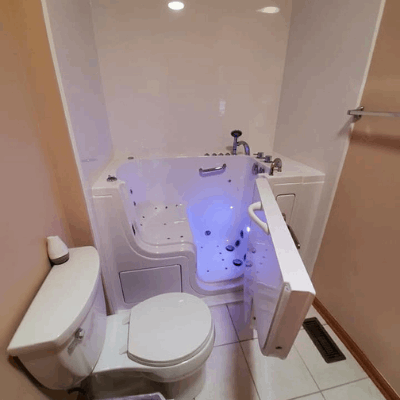 A customer of mine picked an Ella's Bubbles shower enclosure for a remodel that I did for them. The installation was straightforward but the enclosure had a manufacturing issue. One of the parts of the fiberglass chipped.
Read More
So, Ella's Bubbles had to send out a repair crew to come fix it up. Arranging that was very easy though. The hardest part was trying to coordinate with the customer to coordinate with the fix up crew. Still, Ella's Bubbles was pretty good and they were responsive.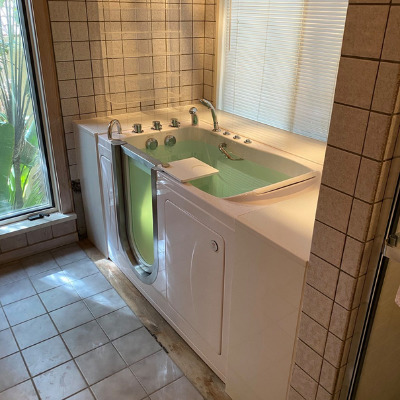 The lady I worked with, Daniela, was most helpful and a great customer service person. She answered all my questions and provided me with product sheets. She is probably the best customer service person I have ever worked with!!! Bill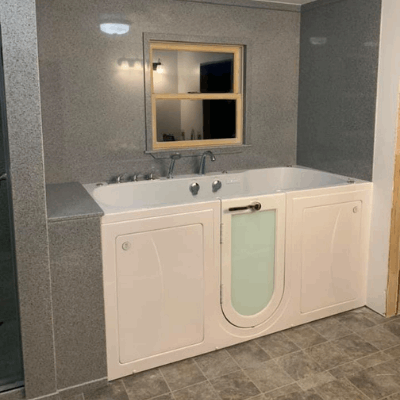 I was looking for a walk-in shower for my husband and I went to Home Depot and Lowe's, and I didn't care for the product lines. So, I went on the internet and I liked the fact that Ella's Bubbles could customize my order and make it to my specifications.
Read More
I sent an e-mail of inquiry and dealt with their lady sales representative. I dealt with her back and forth on e-mail and placed my order through her. After I placed my order, she even e-mailed me right away and said, "You realize now that this won't go in a house that's already built." And I e-mailed her back saying that I have realized that, and that I was ripping out the wall to put it in. And she said okay. She was a very nice lady.
I had a built-in seat, some shelves, hand grabs, and a low threshold. The installation was awesome. I took the wall out to put in a pocket door instead of a standard door, so that if my husband falls, I can get in there. And the walk-in shower went in so easy. It just took two people to carry it in the house. We put it in place. It made it right up to all my stuff already, then we re-plumbed it, and it was done in a day. The wall wasn't back together for a while, but the shower was. Other than waiting for the caulking to dry on the shower doors because I put glass doors on it, the shower was ready to go that day. I would recommend the product and would share with other people that the ease of customization and customer support from Ella's Bubbles are outstanding.


I spoke to a lady from Ella's Bubbles on the phone, Daphne and she was good and we went through it. I wanted a tub that opened out because as my father gets older, he can't stand up. I found that Ella's Bubbles had some of the best options and availability for that. It could use some improvement in a few areas.
Read More
It was ship to me in a crate. I was in a suite in South Louisiana when it was delivered and I just did a quick oversight and it was not screwed down to the crate very well. They didn't do a good job. So it moved inside the crate and that damaged it a little bit.
I had some of the fiberglass panels on the end that didn't go smoothly as I wanted. I had to call back and order another one and the price had changed. But they really came through in the end and shipped me some things to try and resolve some of the outstanding issues. The office manager has been very good. They FedEx'd reports so I haven't had time to deal with them. I would recommend Ella's Bubbles.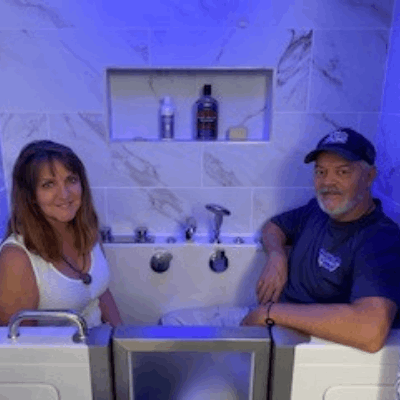 As a cosmetologist with advance studies in cosmetic chemistry and all around health since geek, I researched spa tubs for a very long time. I chose Ella and now that I have it, it far exceeded my expectations in quality, features, and support. Thank you Daphne, Thank you Ella.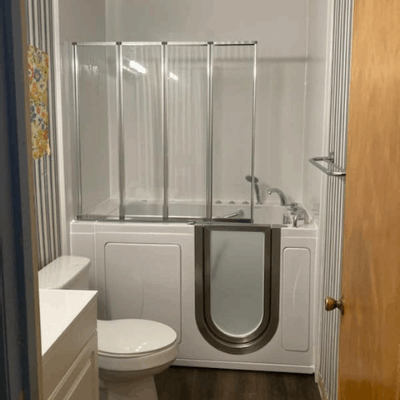 I learned about Ella's Bubbles through research and the lines in their tub looked better than the other ones. I called them to see what they had and I picked it up at Lowe's, and then a licensed tub installer installed it for me. I've had the tub for just under a year.
Read More
I would've probably went a different way completely had I done more research, because the water does actually pool in the cracks, the recesses around the center of the tub, when it was said it wouldn't do that. Also, I would suggest that if they're gonna have that type of tub with a seat in it, they need to have the panels go all the way down to the ground and not have a seam in the middle of it.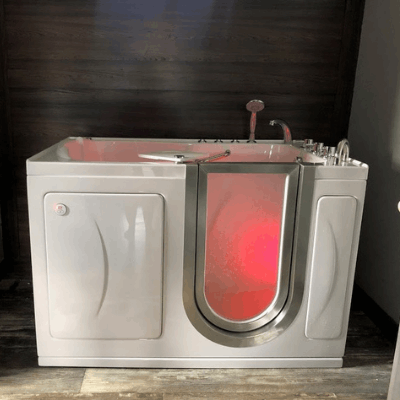 After a couple of Years researching walk-in tubs and manufacturers, I finally found the Company that had good reviews, Ella Bubbles and the tub I wanted with all the bells and whistles, the Ultimate Walk in Spa Bath with Foot Massage. My wife says I always have to have the Biggest and the Best and that is true.
Read More
That way you don't have to say I wish I had got that one so I got the Tub for Two which is the Best tub I have ever saw it has everything from anyone My wife is disabled and i have trouble getting in and out of shower so this made life a blessing I talked to other company's and there prices was a joke they offered discounts but when I talked to Scott ******** Ella's sales rep he shoots you straight and tells you what has to be done and with his vast experience in custom remodeling he can make it happen we love our tub and wish we had done this sooner Scott and his install team Travis and Amanda worked like a well oiled machine they kept the constructing debris cleaned up as they did they project they treated our home as they would there own home. We love the Spa Tub so much and the way our Bathroom turned out I am having a TV/DVD and Satellite to make the total package Thanks again Daphne ******** for all of your help and Scott Williams for such a GREAT job. If your looking for a Super Great Tub look at other tub company and you will see the difference with the tub you can get for less money and better installation and better way better tub with extras so give Daphne ******** at Ella's and then Relax in your New Tub they have one to fit any home.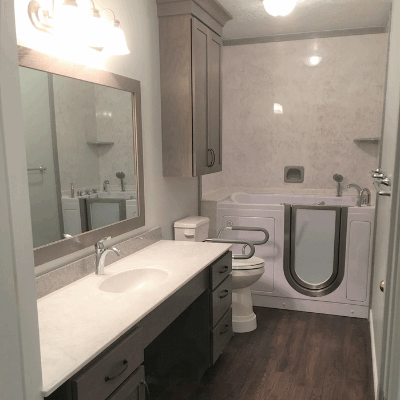 Ella's Bubbles was chosen by my client and we purchased a standard tub from them. The rep explained everything as far as the details of the product, and our interaction was fine.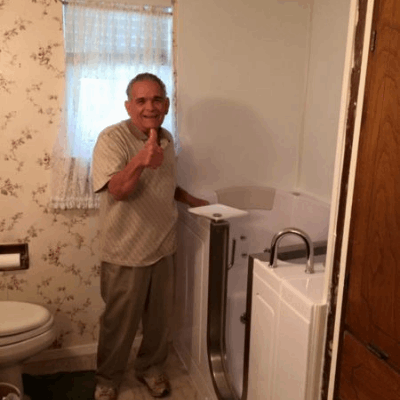 I did some research online and I liked that Ella's Bubbles has the two-seater tub where one can bend. So, I made a purchase and I had a very good experience with their rep. I had a question and they answered it. Then I called back and I asked more questions. The delivery was on time and everything came in good shape.
Read More
The whole process was not difficult and I was pleased. And then, I had my own installer, Bob, and he did a good job. I wish I got a bigger tub but that's on me. The tub is smaller than I expected. If it was in a showroom where I could actually see it, I would have made a better decision. And so, a showroom would be great.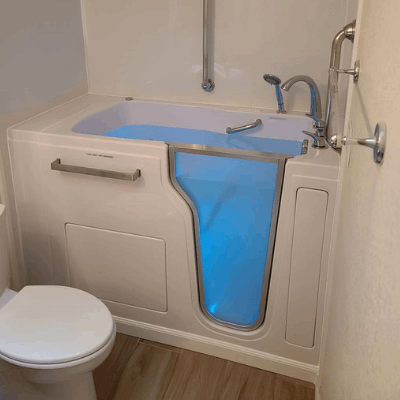 My wife and I have had Our walk in Tub for almost three years now, she had strokes in 2015 and we installed this, it has been a great blessing for her, Service dept is amazing, they care about their costumers, thank you Ellas bubbles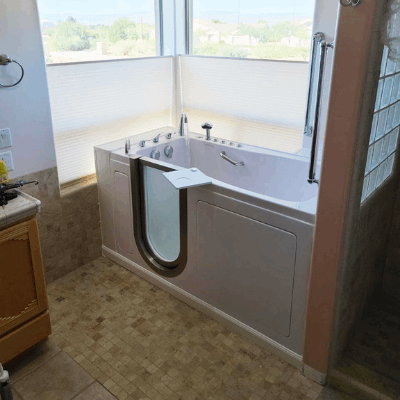 I filled out a form and David, the Ella's Bubbles rep, called right away. He did a good job of telling me all the reasons I would really like the bath and we decided to purchase it. We built a new bathroom. I told the rep what I wanted on it and that is how it came. My builder and his team did the installation and it was very good. And as far as how the bathroom looks, my experience was very positive.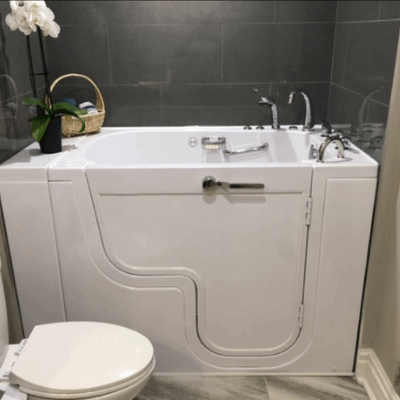 I contacted M. Sergio *******, about a leaking shower head. He informed me tat I was on warranty and that it would be sent to my home. It was delivered today. Thank you. Very nice gentleman. Your Clint service is excellent. I love my Ella tub.
Read More
I had to have a complete knee replacement last year and I must say I was in that tub sometimes 3 times in a day, it helped me deal with the pain and the ozone I firmly believe helped the healing process, The scar is minimal and I had no infection. It really was a Godsend cause I was able to take pain pills so it was between the tub and ice packs. I would highly recommend the Elly Tub. It's wonderful. Sincerely, Lisette


I liked that the door opened out on the Ella's Bubbles tub and it drained quickly. There are two drains. There is also the head rest where you lay your head against. Then everything else was basic that everybody else had – the air jets, the water jets and the showerhead.
Read More
I checked out all the rest of the companies online and although there were a couple of things that Ella's Bubbles didn't have, those things that I wanted, they had. The only trouble is that the tub takes 15 minutes or more to fill up. You would be sitting in this tub naked and the water is filling up for 15 minutes. It is really a pain. If I had known that, then I wouldn't have bought one. The water jets on our feet aren't strong enough either. But I don't know if you can adjust it by turning the ones on your back down and put the pressure to the feet. We haven't tried that yet. I made the purchase three weeks ago and it was installed two weeks ago.


What a great company! My wife wanted a walk in bathtub and found Ella's at Home Depot. This turned out to be the perfect choice for us. Very high quality at a very reasonable cost. Sergio in customer service was very helpful. The tub fills and empties quickly. All of the fittings and controls are high quality! My wife loves it!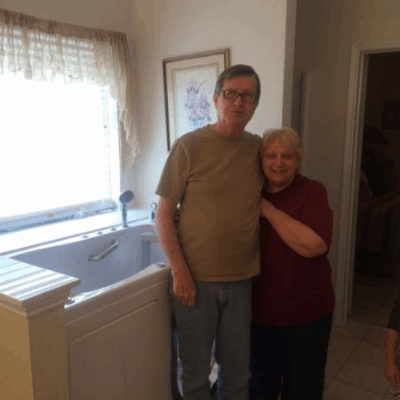 Ella's Bubbles looked like a better product. I liked the number of jets, adjustability, and accessories. Also, the reps were very professional and courteous. They even checked out the price of other locations and reduced theirs until theirs was lesser.
Read More
The product weighs 310 pounds, so it had to have a pallet delivery, and it was delivered by a truck and into the garage. The packaging of the material was so that nothing inside was damaged, which is very good. I wish they would include a how-to video though. Overall, my experience with Ella's Bubbles was excellent. They delivered what they promised, and they were on time.


We purchased our Ella's Bubbles walk in tub in early 2010 and have used it almost daily since then with no problems. While doing some maintenance on the temperature regulating valve, I found some mineral trails on the hose fitting, but no evidence of a measurable leak.
Read More
However, when I loosened and re-tightened the hose, it started to drip. I called support and told them I needed new hoses. They sent exact replacements and I'm back in business, just like brand new. Sergio from support knew exactly what I needed and was very helpful. We are very pleased with our tub and get a lot of relief and enjoyment from it's whirlpool jets and comforting air bubbles. I only gave a 4 star review because we installed the tub in place of a wall to wall existing tub and the frame will not allow easy access through the access panels. The newer tubs may well have been modified to move the frame out of the way by now, but I don't know.


I liked the style at Ella's Bubbles. I knew what I was looking for and I ordered it online. I got the shower and it seems to be okay. I installed it myself. I didn't have any problems and it is working good.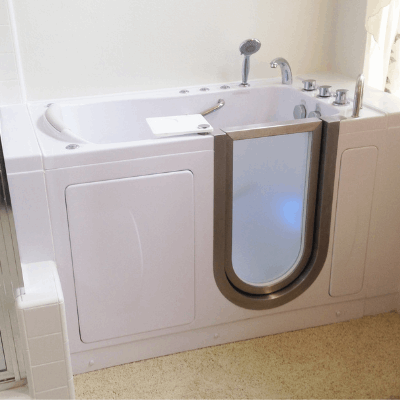 Had trouble with the temp mix valve contacted them and within 15 minutes it was resolved. The tub is a 11 as is their service. Great Company 5 star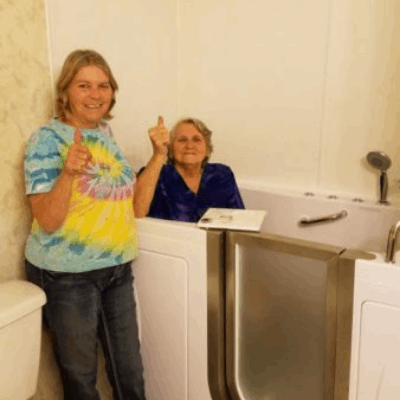 I love my tub and the follow up service has been great. They have answered my questions and dealt with the few issues carefully and in good time.

Great Support…many thanks when the problem was not the tub but the breaker panel. Love the tub! Thanks, Charlene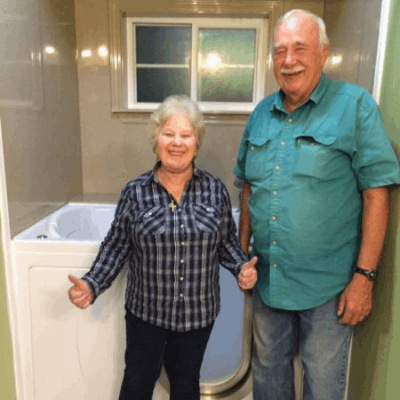 We purchased the shorty walk-in from Ella's Bubbles. It's the smallest one they make and it has the enclosed side and a panel to enclose one end. So, it does not have to go in a bath installation. That was the other selling point. We only had two walls to install it in. Also, it has the heated seat.
Read More
For deliveries, we get FedEx down here and we even get fuel delivery trucks down here and those are not problems. But anything bigger than that and it becomes a serious issue. When the tub was delivered to me in Maine, they put it on a 40-foot long 18-wheeler and it was the only thing in the back of the truck. They had to literally drop it at the top of the driveway. Thankfully, my neighbor has a pickup truck, so we slid it off the 18-wheeler straight into the back of his pickup and he just backed out. He and I unloaded it into the garage and that was fine. As I understand it, this was a third party contract. This was not Ella's Bubbles itself.


So nice to be able to take a relaxing bubble bath and feel completely safe at the same time. After slipping as I was getting out of my normal bathtub, I decided it was time to invest in a step in tub. I wanted one that was deep enough so that I could get my neck and shoulders in the massaging bubbles and let them massage my aching neck and shoulders.
Read More
My Ella Capri model is perfect. When I just need a quick shower, I can also be assured that I won't slip and fall because of the hand rails. So happy to know that I can go into my older years being clean and safe. My tub was shipped to our home and my husband and I installed it ourselves. The wooden crate was damaged when it came off the truck and when we opened it we found that one leveling leg on the tub was badly bent. I called the customer service number and they sent a new on by overnight express.


A supply company in Joplin, Missouri had given us a brochure for Ella's Bubbles. I called the company, they asked questions, and I found out that I could buy directly. So, I made a purchase for a walk-in tub from Ella's Bubbles two weeks ago. It was the top of the line and it got the whole works as far as the customization so it has everything that they could furnish.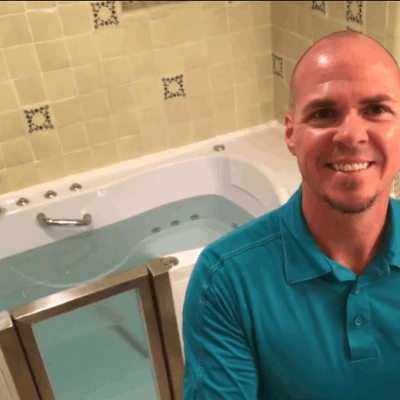 I saw Ella's Bubbles on Amazon when I was doing a Google search and then I contacted them directly. I liked their options and the price. Also, Daphne was great to work with and fulfilled everything I needed.
Read More
I bought the Ultimate tub with the glass enclosure a couple of weeks ago and they were able to customize my order. I added microbubbles, the heated seat, and the digital controls. I had the tub delivered and the experience was fine.


Hello…I have dealt with Ella a few times now and have been greatly impressed with their customer support…especially with their second to none "Service Dept"…My contact person "Sergio" is THE MAN….he has never let me down and has been very helpful in solving all my issues. Many Thanks Sergio, Barry from the Great White North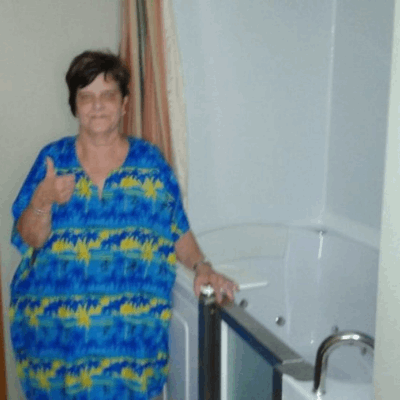 I was looking for a particular bath tub and Ella's Bubbles had the style that I couldn't find anywhere else. The sales representatives at Ella's were very nice. We ordered the tub then they just had it shipped, and it was delivered very quickly.
Read More
My plumber had a few questions about installation, and they sent over all the literature that I needed to get that done. They did a great job. Everything went very smoothly and I couldn't be happier with them. If I ever need something else in the future, I'll definitely give them a call.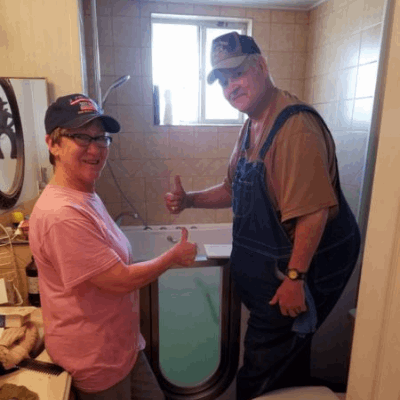 I want to share a positive experience about Ella's Bubbles. My wife has had four knee surgeries and getting in and out of our tub had become dangerous. When I decided to get a walk-in tub I found only one on display in our hometown and only two on display in all of greater Birmingham, AL.
Read More
I was not impressed and started researching. I wound up doing extensive research and settled on Ella's Bubbles Lounger. The people at Ella's were a great help and shipped the tub directly to me. As my plumbers and electrician were removing the tub from it's shipping pallet, they began commenting very positively about the quality. After installation, there were even more positive comments. The plumbers said it was the best looking of all the tubs they had installed. Our experience has reinforced the positive comments of the installers. I contacted Ella's a couple of times with questions and got very good responses in very short order. I definitely made the right decision in going with Ella's.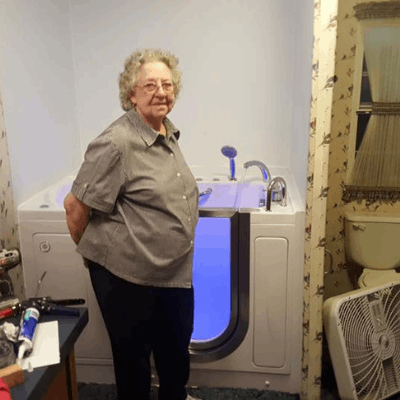 Ella's Bubbles was great. They gave me a good price for the tub. I bought it about six months ago, and I was renovating the house, so I had the tub hooked up about three weeks ago. However, the steel on the door of the tub is leaking. So, I'm gonna have to call Ella's Bubbles and get them to look at the tub.
Read More
I bought this for my mother because she is at an age where she needs something more safe. I'm praying that they can do something because I paid off 10 grand for this tub. I can't fill it up because it leaks all over the floor. But my mother can now sit in the tub and she takes a shower in it.
When the plumber installed the tub, he had to level it to the floor. But you have to lift up on the door to close it, and it's a real problem. When you have an elderly person, that's gonna be hard. I'm very disappointed in this part. I hope that they can take care of this door not shutting. Also, I had a problem with the delivery. The shipping company that Ella's Bubbles used was late on delivering the tub. When they came, I was still sitting in heavy traffic and the delivery guy said they wanna leave my tub on a curve in the rainy weather. I did not agree and told him that I would call my contractor back to the house. Thank goodness my contractor lives around the corner, so he came over and helped the delivery guy get the tub on my porch. I didn't want my expensive tub sitting out in the weather.
The Ella's Bubbles sales rep was a very nice lady. She tried her darnedest to get the tub that I really wanted. She called me back, and she had talked to her supervisor and got them to lower the price on the tub. So, I was happy with that. I wasn't happy that I had to buy a more expensive tub, but I was happy with her efforts to get me one. I'm thinking about ordering another tub from them. I would highly recommend them.


After months of researching walk-in tubs and manufacturers, I finally found the Company that had good reviews, Ella Bubbles and the tub I wanted with all the bells and whistles, the Ultimate Walk in Spa Bath with Foot Massage.
Read More
The salesperson at Ella's Daphne ********* spent a considerable amount of time with me helping me to choose the right tub and she quickly got the technician, Sergio, involved for any technical questions. The tub was delivered without the pillow I ordered. I called Daphne and it was sent to me the next day. The customer service is unsurpassed in todays day and age. The tub is definitely the ultimate! My first night in, I turned on the music, the colored lights in the tub, had a glass of champagne sitting on my tub's swivel tray, turned on the jets- it was the ultimate experience for sure as I congratulated myself for such a great decision in buying this great tub! Everything worked perfectly, and when I finally decided I should get out, the bathtub drained in less than 80 seconds. Loved the tub and the Ella experience. Thank you Daphne!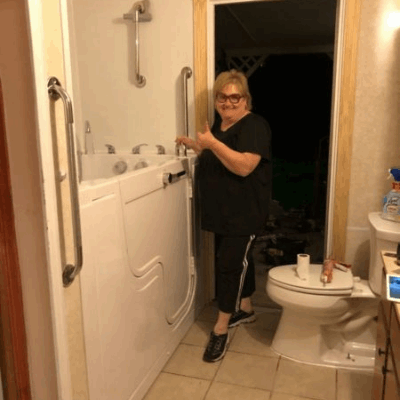 We purchased Ella's Bubbles walk-in tub for my husband's aunt. He did some comparison shopping and decided that was the one he wanted. Ordering was easy and it was all delivered like it was supposed to be. The end product is great and we love our experience.

The bathtub I purchased from Ella's Bubbles is of superior quality and exactly as advertised. The company was extremely helpful in selecting the right tub for the space, in overseeing the shipping arrangements and in all aspects of the transaction. Well worth the price, it's not only attractive but extremely sturdy and if there were to be any problems later, I am certain they would be just as helpful in resolving them.

I was doing an internet search and I found Ella's Bubbles. The website was ver easy to understand and it had a lot of information for a person like myself that would wanna install it. I made a comment on the website that they showed a left-hand door with a right-hand part number.
Read More
I brought it to their attention and then I went back about two weeks later and saw that it was corrected. I kinda thought that was cool because it's a little misleading. You wanna be sure.
I saw they were quality product and when I reached out to them, the gal that works there was very knowledgeable and very helpful. I wanted to buy one that I can go pick up somewhere and I was able to go down there and pick it up. I requested a quote on January 22nd. Daphne was the account manager and she was a very, very pleasant lady to talk to and do business with. They gave me an excellent price and a quote.
Originally, I was getting the larger one and then I found something on the website of how many gallons and I was kinda worried about my tank in the basement, the pump not being able to keep up with the kind of drainage plus to just conserve on the water. I decided that a smaller model was fine and I ended up settling an order confirmation and ended up with Ella's Deluxe item. I got the dual massage, hydro jets, and I got the MicroBubble with it with the brass filler so it would fill faster. Plus, I like the quality of that faucet better.
I installed it myself, so it went excellent. And that's one thing that I liked about their company. One company I originally called charged 22 grand for installation and wouldn't let me install it myself. With Ella's Bubbles, I can install it myself and it was very easy to install and had good instructions. I had no problem at all. But I expected a little bit more pressure out of the jets. I feel just a little bit weakened pressure and they're not the strongest that I would like to see. But I'm used to a hot tub and a hot tub must have a bigger pump or bigger motor in it. Also, it ends up taking care of my back problem and I feel relaxed and that's the main part.
I like the door opening to the inside versus outside. Originally, I put it in because the mother-in-law was gonna move in part time to keep her out of the home full time and I thought that that's a little riskier if somebody's opening it inadvertently. But, again, I like the door opening to the inside anyway. It's a lot better to have water pressure pushing on the door even though it's got a mechanism to cross the gasket so nothing leaks. It's a great product and I've recommended it to other people and I would keep on recommending it.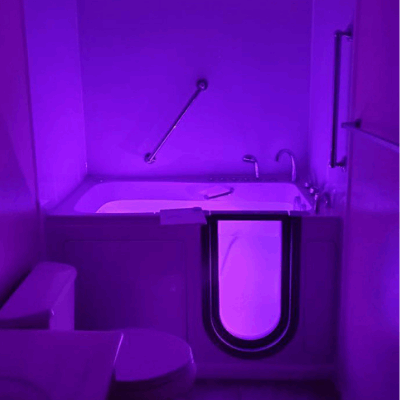 I bought my Ella's Deluxe tub through **** ****** It was a good price and arrived at the store in excellent condition. I picked it up.. not to heavy for two guys to get in the truck. At home I unpacked it and studied it. Very well made tub, fittings, and accessories. I needed a couple of extra parts and had a few questions for the install so I emailed the company directly.
Read More
Sergio ****** responded and he has been super helpful and efficient. The install went great. I have been enjoying this tub without any problems. When I did need a replacement part, an aerator and a gasket, a quick email to Sergio was all it took. In a few days, my part arrived. This is one great tub, much better than those I see advertised on TV and in magazines. I highly recommend Ella's Bubbles tubs. The quality and service is second to none.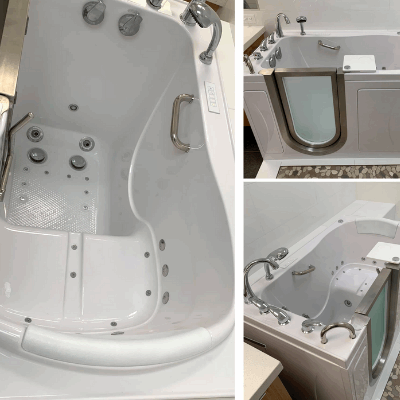 I have had my Ella's walk in tub for two years, and use it every single night. I find it to be very relaxing and fosters an excellent nights sleep. It is one or my best investments, and Ella's Bubbles has been an excellent company to do business with.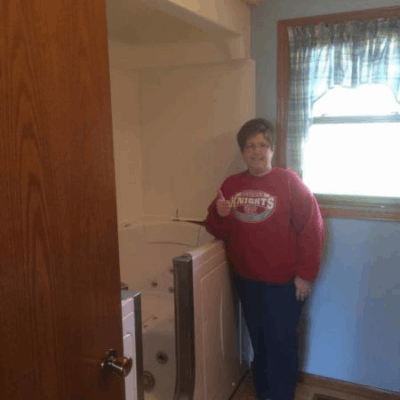 I love my tub and they are excellent for asking anything you need to know about the tub. Sergio is great to getting right back to you. I thank you for your extra help.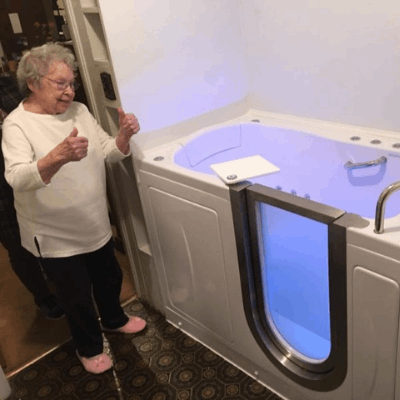 Hi Everyone, I have never really written a review like this before. I guess I am what's known as hard to please. I believe most people, and most companies tend to do just enough to get by – not go the extra mile. I am sure you all have dealt with those companies. Well I am here at the age of 68 to tell you about a company that does what they promise – even if you live clear across the country from them.
Read More
I have lived in the Las Vegas, Nevada area for over 40 years. I am a legally disabled lady Veteran. And I have been retired 16 years. As I have gotten older I have had to struggle to stay clean, and it was getting dangerous in my home shower. The solution came in the form of a 'walk-in tub' from Ella's Bubbles. When I first looked into walk-in tubs I was blown away with the price, but when I found out that the VA would help – it became a no brainer. I am so glad I got this wonderful tub. I really enjoy my shower baths, because I can sit there and have all the benefits of a shower – right in the tub safely, and I really like the bubbles and multi-colored light. Bathing is now a pleasant experience not hazardous duty. The reason I am writing this is because after 2 years or great service, my tub needed a couple of parts and a small fix. I contacted the folks that sold, and installed my tub, but they had to move out of state for family reasons. It was then that I contacted Sergio ****** – – MR. Bubbles 🙂 Sergio was quick to find out what parts to ship, and set it all up with Luis ***** here in Nevada to make the repair. By the way Sergio is in Chicago, IL – just a "few" miles away – 1524 miles as the crow flies. I am happy to report my tub is back to its wonderful – like new – self. Sergio took care of everything – the parts – the labor – the works. Thanks a million – to you Sergio and your staff. Penny ****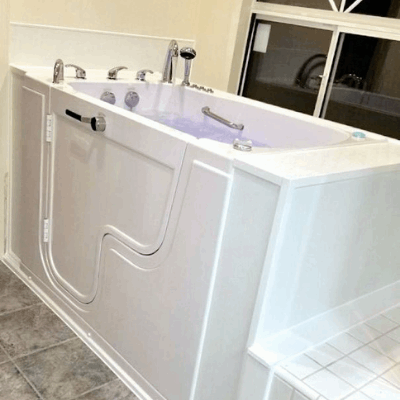 I bought an Ella tub last summer and the heater in the tub was not working, so I contacted this company. The problem was corrected by them sending a replacement heater. Thank you! Gary ** *******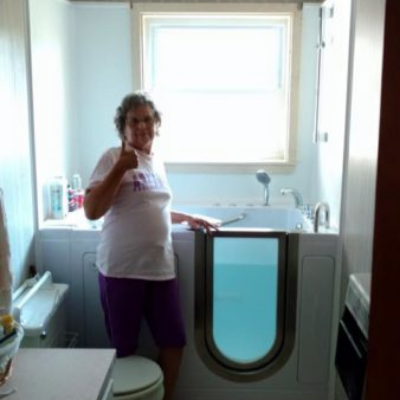 I was looking for a tub with a particular size. My father had a stroke so I needed to be able to get him into a situation where I could reach him and he could not fall out. I also have a brother who has Psoriasis and he needs to be able to stretch out and soak in the tub every day. The tubs that our contractor suggested were so small and that was not possible. Then I searched Ella's Bubbles on the internet.
Read More
When I talked to a rep with Ella's Bubbles on the phone, I was asked what I wanted and they had many alternatives. They have floor models as well as some tubs that had been built for somebody who didn't want them. I talked to them three or four times. The rep went through what they have to see if there was a tub at a cheaper price than what I could build for one. It didn't work out for me, but it was very nice that he tried. Also, he was quite able to answer any questions I had and was very knowledgeable. Even when I changed my mind about things, he was able to handle that as well. Then my contractor had to call and ask some questions about the specifications, because we built the bathroom that it was going in, and he was very nice. I purchased the walk in, soaker tub and it's fabulous! It has been perfect for us and my brother really likes it as well.


Installation by Marblecast of Michigan was professional and perfect. Overall cost reasonable with workmanship superior. The tub itself had three issues: operation manual was incomplete, thigh massage needed on control side, crotch jet needs to be adjustable. Overall rating is 5 star even with above issues. Can be contacted for information and pictures.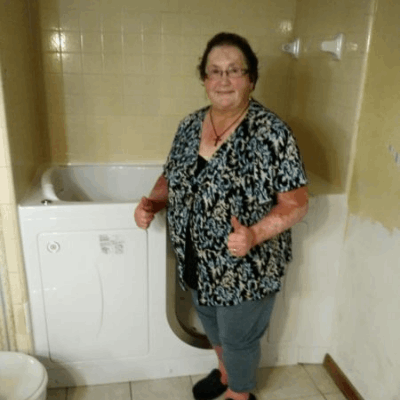 My tub has been with me a long time, very impressed with Service department. I have been shipped parts that are on warranty, given good instructions to install them. Sergio has always been there for anything I needed. You could not ask for more. I love Ella Bubbles!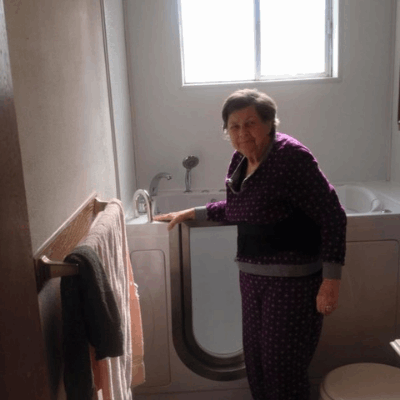 We got Ella's Bubbles for our bathroom remodel because their tub opens up and we can put a wheelchair off to it to get somebody in. My brother helped us put it in. He had never done two drains but he figured it out. We just put it in the corner, so the back of it is against the wall in the corner.
Read More
The front's open, so we can walk around the front of it and the side of it. I really liked it. My aunt was going downhill and I wouldn't have been able to bath her if I didn't have it. I've had to kinda guide her and sit her down. But before I would lilt her out of a regular tub and I was having to lift her with my left arm to her feet — and that was a lot. However, I'm not real tall and when the tub is closed and I'm reaching over to help bathe somebody that needs help, the way the handle is, it goes into me close and touches me all the time. If there was a step there, it would be easier.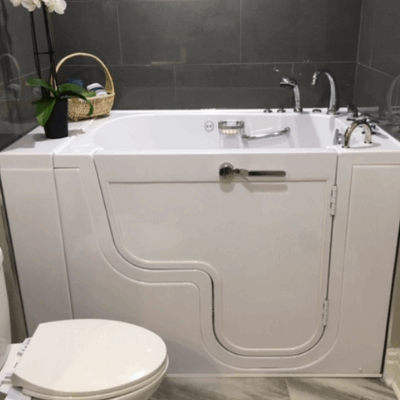 I received information on Ella's Bubbles from one of my clients, and it was the tub that was selected. It's a bathtub for handicapped individuals that has no use for their legs. Once it was installed, it wasn't draining as quickly as it needed to be and the piping that was originally suggested was not sufficient enough. But we fixed it with relative ease.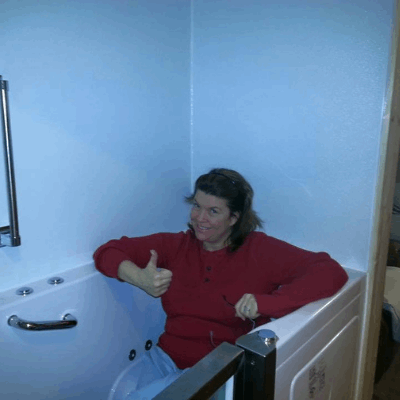 I researched Ella's Bubbles online and I liked their tub the best. I purchased one for my adult daughter who's disabled and she's used it several times. It's wonderful and it's been the best thing we ever did. We had a walk-in tub prior, but it was not wheelchair-accessible.
Read More
This one is far better than the one we had before. It's wheelchair-accessible wherein the door opens out on the side and it's 36-inch depth. My contractor installed it and it was easy for him. Plus the rep was excellent. I would highly recommend them.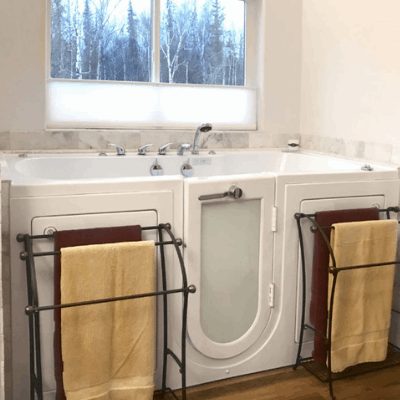 I've been researching walk-in tubs for over a year and I found out about Ella's Bubbles three months before I did the purchase. The company was very new to me and I have done research on almost everybody in North America that either sold or manufacture walk-in tubs.
Read More
I did a spreadsheet of pricing and features of all the ones that I came across, and I kept coming back to Ella's Bubbles. I wasn't familiar with them so I drilled down more into research and found out that a lot of their manufacturing was done right here in America, and compared to even more expensive tubs, they offered full feature options. I also found information from other people who has purchased from them and about the parts and manufacturing. Based on what I wanted, it looked like they were a company for me to take a chance with, compared to even more established companies.
The interaction with the sales representative was good but initially, I wasn't sure if I could purchase direct. So, I was calling and talking to sales reps about features and shipping. On the second call, I was informed that I could purchase direct from them and if I go online, I could find one that they would match the price with. So, that worked to my benefit. I kept looking around Home Depot, Amazon and someone was running a discount on the one that I was interested in. When I called the rep, she said she could match that. I got the Ultimate tub a month ago and the bathroom space is currently being prepared for the tub installation.
My home was flooded and I'm doing a complete renovation. I informed the sales rep that I was having problems with freight shipments for some big-ticket items and she told me that they would call me when the tub is at the terminal and schedule a delivery. I never got the call and so I decided to follow-up with the freight company. When I called them, they informed me that they had already tried to deliver and nobody was at my house, so they were in the process of sending it back. They told me that they could not reschedule delivery to somebody from the manufacturer and to call to guarantee they would have to pay for a re-delivery. When I called my sales rep about it, she took care of it. She called them and we thought everything' was worked out but I still had some issues, so the unit was at the terminal for over three weeks before I was able to get them to schedule a delivery.
Once the sales rep got back with them and got everything planned out, I had a call on the day of the delivery from the freight truck. The rep was telling me that he was three blocks from my house and he was looking at my residence location on Google map and he wanted to know if I could come in a truck to where he had stopped and get it out the freight truck. The sales rep made it clear that before I let them take it out the truck, if there were any blemishes or anything looks suspicious with the crate, to leave it on the truck. However, it was pristine and well-packed. The guy claimed that he was unsure if he could bring the truck or trailer into the neighbor. I had no problems once he arrived at the house and I was able to inspect the package. When I opened the tub, it was beautiful. I would recommend Ella's Bubbles 100%.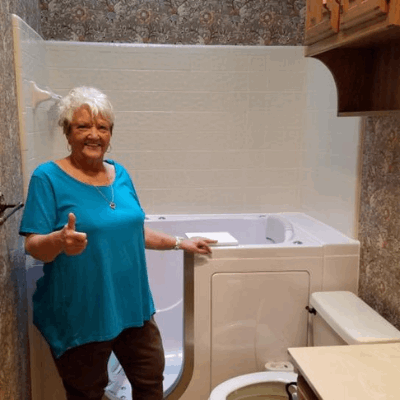 I had been specifically looking for a walk-in tub where you weren't trapped to sitting there in a chair and you could stretch out. I saw different tubs offered on eBay and I was attracted to Ella's Bubbles. Aside from the regular down at the floor-level bathtub, Ella's is the only one that has two seats.
Read More
I also liked the features of the tub in comparison to other manufacturers and how Ella's make their tubs. One of the things they asked when looking for a tub was if the tub has this, that and something else. And when I was looking through it, the other tubs didn't have those.
I bought my walk-in tub from a dealer called DiscoBath, a vendor on eBay. He was great about making sure I got exactly the tub I wanted because there were two sizes of the five-foot tub and I wanted the bigger one. He was also really great about getting the shipping set up and notifying me about it. But when I had a small problem with the tub when we were installing it, he wasn't so helpful. What happened was my plumber screwed up one of the gaskets for the drain because he thought there was a burr on the drain. He thought he had ringed the gasket. I went to Ella's website and contacted their customer service directly. They were fantastic. They overnight mailed me a new set of gaskets.
During the installation, we were fortunate. My husband and I have a house that we needed a lot of work on to be able to sell it. I had a whole crew of people and I already had a plumber who was experienced in installing tubs. I also had a handy-man who was able to do the things that I needed. We are living in a 70-year-old house and a problem we had during the installation was the doorway into the bathroom was only 22 inches wide, so we had to take out part of the wall to get the tub it. We also had to take out a window of the house. Once the tub was in the bathroom, we had to put the wall back the way it was. We also had to take out the ceiling of the room underneath the tub to get the plumbing installed correctly. Our installation, therefore, was a little bit more complicated than most people because our house is ancient.
My husband and I really love our walk-in tub. My husband had been having trouble standing in the shower that we had before. Now, it's really great for him because we put a grab bar on the wall and he can get in and out of the tub just fine. Overall, I was extremely pleased with Ella's Bubbles. Sergio, their customer service guy, he gave me his number and his email so I could directly contact him if I had any problems or concerns. He was always available and it had been a really good experience.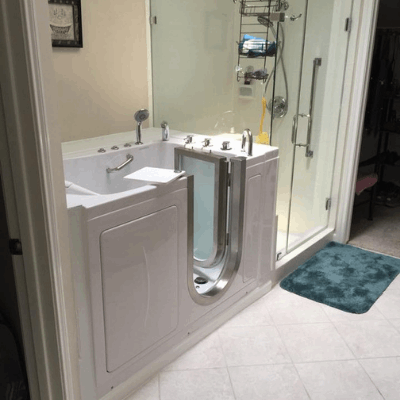 I'm very satisfied with Ella's Bubbles. Daniela is the one I dealt with almost every time I called in for information on the price, the swing out door and the sizes. There was a particular situation as well and she helped me make sure I got dual massage. So she did a good job and I was very pleased.
Read More
The price was also fair compared to the sunken one I had in there previously. It was naturally more but I expected that.
Our customer also says they're very happy. That was my main concern because she's a handicapped woman. She has a live-in partner and the whole family uses that tub. We had put another water heater in and I thought the next thing they would complain about is how fast the faucet fills. But they haven't complained about that. Otherwise, the water would only come up to the customer's knees and then the water wouldn't be hot enough all the way up. They only had a 50 gallon electric in there so we put another one in succession and now it is enough. Everything is working great and I haven't had any complaints in a month and a half now. We left a customer satisfied and if I have to look for any more walk-in tubs, I definitely would call Daniela first to get information.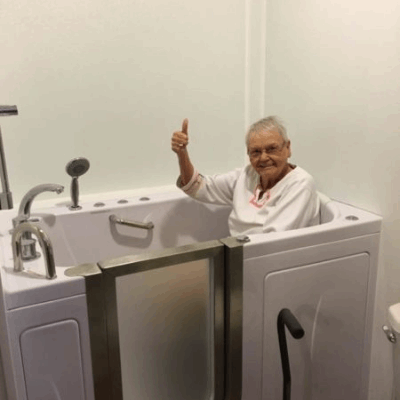 I was searching the internet for walk-in tubs 'cause I needed one, and Ella's Bubbles caught my eye. When it was time to install the tub, there was some delay because they had to get up into the attic and it was too hot when they first came. But when they came back, everything went very smoothly.
Read More
The installers were very good. The only thing is that I wish the water jets in the bath were a little higher. They're not hitting above my waist. Other than that, I like the tub and the see-through door.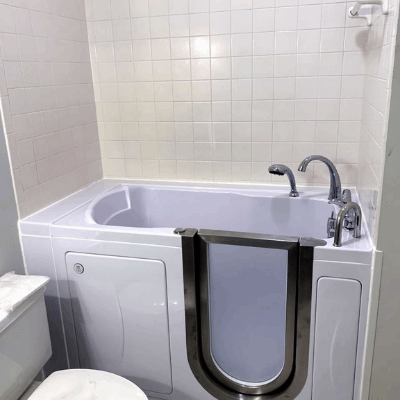 We liked that Ella's Bubbles had a two-person tub. We got one from them and I had an excellent experience speaking with their representative.

I purchased a Deluxe walk-in tub from Ella's Bubbles. Their rep showed me the different styles of tubs and how they made them. She also recommended me the company who eventually came to install. I went to their warehouse and saw how the tubs are made, the quality and their warranty.
Read More
I have a small bathroom with a walk-in tub and with it there's more room than having a conventional tub. A conventional tub is 60 inches wide while the one I got is 52 inches. My house is 55 years old and all the pipes in the bathroom were iron. The installers changed all the pipes with PV ones. Also, they were able to put the vanity in the tub on the same wall. The tub is of a newer style with two drains. It drains quickly and the functionality is perfect. Ella's Bubbles' tub can't be beaten.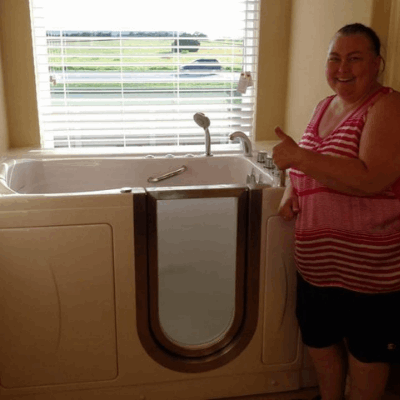 I became more unable to do a lot of things that I used to do and thought it would be better for me to get a walk-in tub, but I didn't want the traditional ones with the all-white acrylic and heavy door type thing. I wanted something that would look more aesthetically pleasing to me and different in my home.
Read More
When I was looking through some pictures online of walk-in tubs, I saw the one that Ella's Bubbles had with the glass door. I contacted them and they were able to manufacture a custom-made tub for my bathroom. My tub was a little bit smaller and had to fit into a narrower space. And the gentleman that I hired to redo the bathroom supervised the installation and was able to work with their people who did that kind of custom stuff. Ella's Bubbles gave me a nice tub and I had it for five years.
Recently, I bought my second tub from them and it was something that was on sale and pre-manufactured. Their sales reps have always been great and very responsive. As a matter of fact, when the drain was sticking on the one that I just purchased, I contacted them and they sent me a new stopper right away. But the contractor I hired for the installation subcontracted to a plumber who seemed to not be familiar with some of the features of the tub like the double-drain. Then I wanted a special swan fixture put on it and he felt uncomfortable doing the drilling that was necessary to put the fixtures on. So I ended up going through three plumbers before I got everything done the way it should have been done.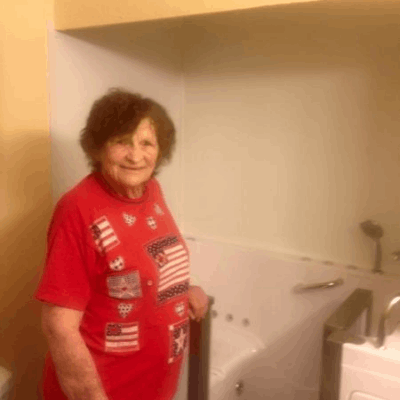 We are getting older and we got a walk-in tub from Ella's Bubbles in case we needed it. We've had it for a year and when we have used it, we really liked it.

I'm a general contractor. I do remodels for clients and we ordered a tub from Ella's Bubbles for a client. Ordering from them was smooth. We installed the tub on a full house remodel. We had an installation issue that we were able to get worked out. Whenever the tub was draining, it would cause the water to come out through the shower that was adjacent to it.
Read More
I guess the pipes where that flow was going out of wasn't sufficient enough to drain the water all the way through. It was such a large amount of water that was being forced out at one time, but it ended up coming up through the drain of the shower. So, we ended up having to reroute the drain for that tub to a larger sewer line where we tied it into the toilet line which is a bigger pipe. Other than that, the tub itself has worked perfectly. Our client is extremely happy with it.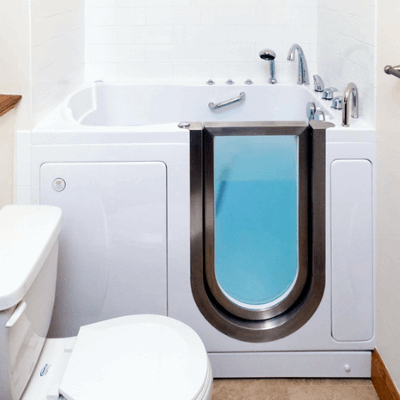 I checked other companies before Ella's and I got calls anywhere from 22,000 down to 10,000. Then, I studied the different problems and quality of different ones. Kohler sounded like it was almost the best deal, but I found out that they got a pressured drain. They use a standard one and a half-inch drain.
Read More
If you get a plugged drain after the tub, it is gonna blow that pipe apart and put all the water in your basement. So, I got a standard single-person walk-in tub and a Deluxe model from Ella's. Their reps were helpful and they were great people to work with. The tub has all the features that want. It has the purifier for the water and two different types of circulation. I can control them and everything out of it is super high quality.
The price and shipping were great. It was well packaged, too. Also, the tub was relatively easy to put in and the instructions were good. It went into where my old tub was and we broke out the old cast-iron tub with a sledgehammer. One of the controls was tightening up but the guy talked to me on the phone about it. Now, everything is easy to get out and the access is perfect. The other thing is, since they didn't install it, they had another company come in and they wanted $8,000 to install it, which is the biggest rip-off. Even so, Ella's is a great company to work with and I wish every purchasing experience would be as good as what I had with them.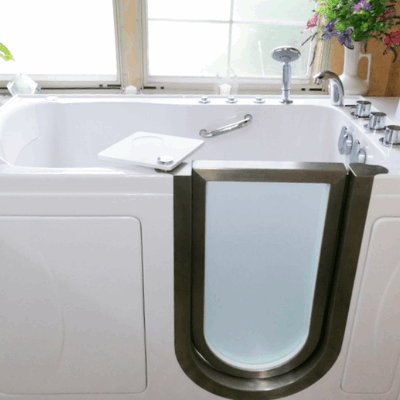 Ella's Bubbles was the only company that I saw which had walk-in tubs with seats for two people, the Companion. And I liked that, so I called in and purchased it from them. Everything was done over the phone and I dealt with a nice lady. Then they sent it to me and I installed the tub myself.
Read More
I have built 20 laundromats for 38 years and the installation was a piece of cake for me. Right now, the whole room is not ready yet but one time, I have checked the tub one time and the thing is, its door opens from the inside. So once I walked in to the tub, I had a hard time closing the door with my legs over there. Also, my wife is handicapped and she can't move, so if she's gonna go in, I'm gonna have a hard time closing the door with her inside. Now with two people being inside, I see no way getting me and my wife into the tub and being able to close the door.
When they engineered that thing, they didn't really think that through. If I would make that thing, I would make the door open out so when you walk in, there would be room to close the door. If it has to go in, then I would make it a little bit narrower, which would not be a big deal as I can fit through the door anyway. You would have more room when standing inside to close the door. Aside from that, the piece is good and the company's service was good.


I got the tub that had all the jets and all of the water and air from Ella's Bubbles. And I like the fact that the door came off so that if something were to happen and I needed help in the tub, that door could be removed for someone to step in and help. The salesperson was great too.
Read More
She e-mailed me information that I couldn't get on the tub. I was building a new house and when I was trying to get the exact measurements, she sent me the schematics by e-mail. Then the contractor that was building my house hired the plumber who installed the tub. But when the plumber was trying to put the drains in, I had a leak in one of the copper tubes.
I talked to Ella's Bubbles and afterwards my plumber called and talked to a tech. The tech walked him through soldering that pipe so that the leak stopped. I have been extremely pleased. Everything's been fantastic and I've recommended Ella's Bubbles several times. I was lucky enough to start it when I was building the house but I've told people who are trying to remodel that these are people that they would wanna go talk to.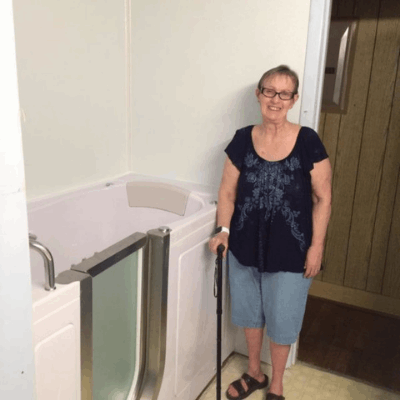 I was advised that we needed a walk-in tub and I started researching. I researched every brand and Ella's Bubbles' two-seater and price stood out. The company's reps were all very good too. We got the two-seater model which is 60 inches long with a door that opened in. We had a hard time getting it installed but that was not Ella's problem. We paid a couple of $1000 but the installer didn't read the directions.
Read More
It wouldn't drain and we had to finally get it redone properly. It works properly now but we are very small people. If we were any taller, you can never have two people in it with a door that opens in. I'm five feet tall, I weigh 110 and my husband is not large but it's really difficult to maneuver the door for two people. It's not big enough and Ella's Bubbles should explain that before someone buys it. I love the tub though. We put a shower above it, so very often my husband and I take individual showers and it has a seat, so it's great.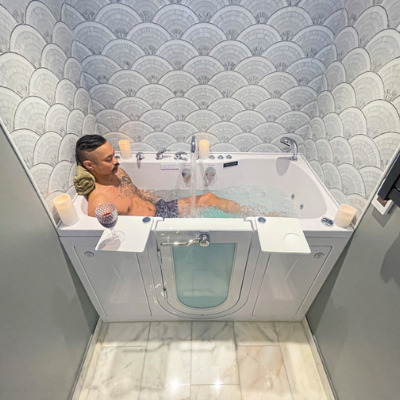 It's been close to a year since I purchased a walk-in tub at Ella's Bubbles. I like that it has all the bells and whistles, like heated seats, bubble jet, and chromotherapy. I installed it myself and it's not as easy as they make it sound to the homeowners on the TV commercials. But my experience working with the sales representatives was phenomenal. Communication was great and they were always a phone call away.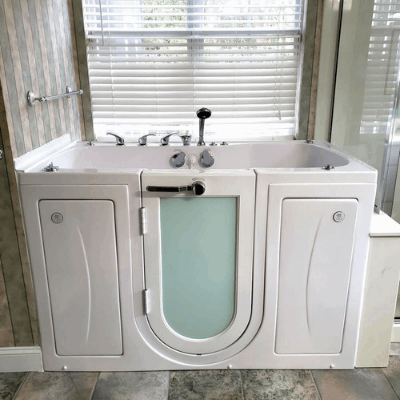 I liked the tubs that Ella's Bubbles have and I got one. We're going on the second year, but we're having some issues with the tub. The doors that swing outward is not a good thing to buy. The hinge is an issue with its poor quality so the bathtub doors constantly get out of adjustment and are hard to shut. Their sales sent me another gasket at no charge but the gasket went bad. Other than that, everything else is fine. I put the tub in on my own and it was simple. The experience overall was fine.

Ella's Bubbles was specified by the client on a project where I was the superintendent. I ordered the tub for her when we found out what the specs were and what she wanted, and they set the information on what I needed to supply for water, drains and electrical stuff. The installation was relatively easy although the tub is fiberglass, which is not perfect in any regard.
Read More
The walk-in tub that we installed was the one with all the jets, air and a heated seat. We set the tub lower in the floor so it would be easier for her to get in and out as she would only step up a couple inches. We also surrounded the tub with stone slabs. When the project was completed about a year ago, the lights and jets all worked properly.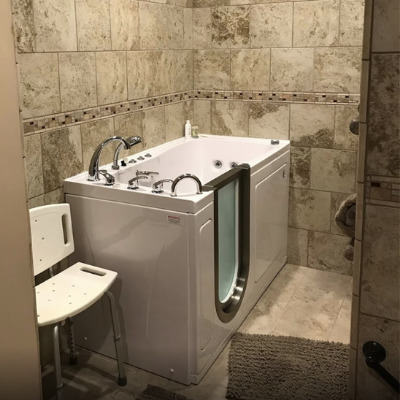 Ella's Bubbles offers a two-person walk-in bathtub so I got my tub from them. I had good interactions with the sales reps and I got what I expected. I would recommend Ella's Bubbles.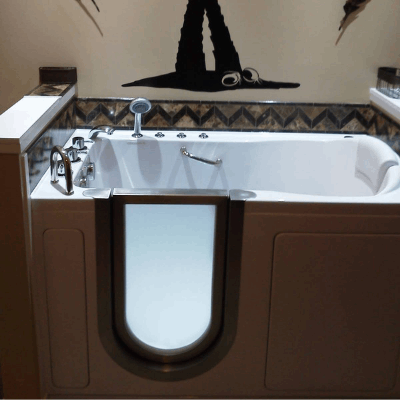 I've fallen down a couple of times in my old tub. After seeing the ratings of Ella's Bubbles we got a walk-in tub from them. We had the tub customized so that it would fill in where the other tub was. The installers installed the unit in the rain and they stayed till midnight to finish it. They were very good and they worked very hard. I wish I would have gotten a unit that is a little bigger, but the quality of the one we have is fine. I've recommended Ella's Bubbles to other people.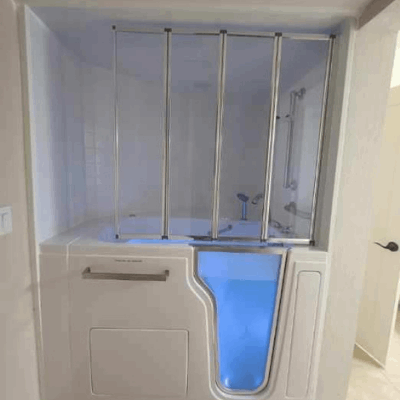 We purchased a walk-in tub that has a shower from Ella's Bubbles for our aunt and uncle. It came in earlier than we thought. However, their installers had to redo some stuff because of the way the plumbing is for the tub and the plumbing that was existing in the house. Still, everything else was good.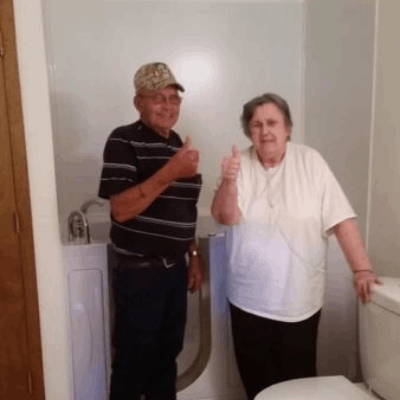 We were looking for a walk-in tub that we could use together. Ella's Bubbles is the only company that produces a tub that was suitable for us so we bought one of their tubs from Wayfair. The service there was very good. Since getting the tub, my partner has been using it to wash her hair and she can do it very simply. Even when we want to wash one of our little dogs, she uses the tub as well. We are very happy with the tub we have.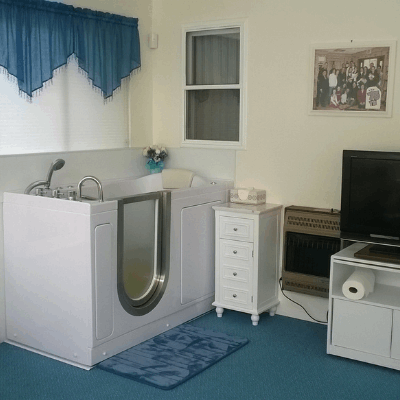 I bought a tub from Ella's Bubbles for my mother's therapy. My mom had just come home from losing half of her lungs and she couldn't make it up the stairs anymore, and we needed a solution where she could live on the first floor of her house. I also had to remodel the laundry room. Customizing my order was a piece of cake.
Read More
The lady who helped me was great. I called her on the phone after doing my research, told her the tub that I wanted, she threw in a heated seat which was great, and then I ordered it and they shipped it from Chicago. It took a little longer to get here than I would've liked, but all things considered, we were in a rush. She also sent some emails back and forth to me. It didn't take about 48 hours to purchase the tub. Considering we already knew what we wanted, I didn't walk in the door needing to be convinced.
Everybody has seen the tub and the only mistake that I would tell them that was made in the entire process is that this is a 99-gallon tub. So if you have a 50-gallon water tank, you have a problem. And that was the only thing that was never explained and I missed it in my research. That's more my fault. But in the end, if I was gonna say anything, I would make sure that the Ella's team knew that whoever buys this tub, the average person does not have a 100-gallon water tank in their home. It's a real problem. We were able to do this because my parents are old and they've saved their money and all that. But we put in a $6,000 system just to fill the tub. So it's not a practical purchase. I wouldn't recommend a therapy tub to most people at this point. My mom has a special situation, but if somebody wanted to put it in a regular home, I hope they have a 100-gallon water tank. Still, my mom's old and I felt she deserved the tub from Ella's Bubbles.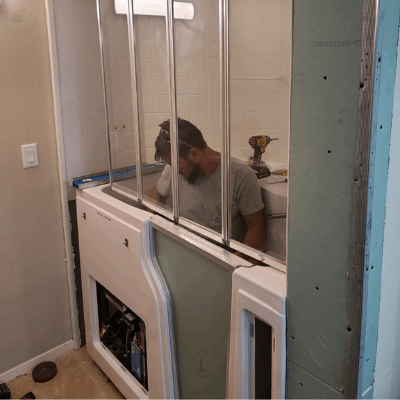 My interactions with the sales reps at Ella's Bubbles were perfect. I described to them the product I was interested in and had it shipped to me. Thereafter, I had my plumber install the tub and the instructions were very clear. It's an awesome tub.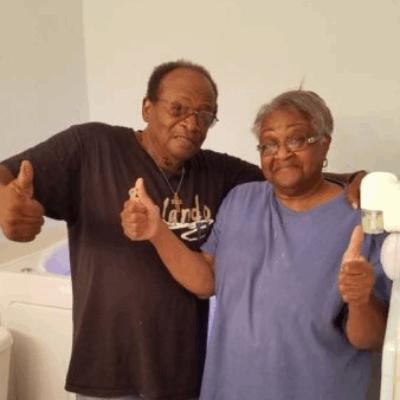 We did a whole bathroom renovation and had all the specs. I dealt with Daphne of Ella's Bubbles and she knew all our information. She was determining which tub to go with, as far as all the features. We hired a plumber and our plumber verified that it would work out. I oversaw it and it went smoothly. Ella's Bubbles was quick to get it shipped to me. They're excellent with the specs and information that they gave me prior to me actually seeing it. I'd use them again.

We remodeled the bathrooms about a year ago and Ella's Bubbles had more options than other companies. We purchased a walk-in tub and their rep was great. He walked me through the whole process and made sure that it was delivered on time and that my installer had the right information. They had some difficulties with the installation, but they were able to get it.
Read More
They had to reinforce the floor joist and a few things like that because we didn't realize how heavy it was when it was bought.
I use the tub about once every two to three weeks because it takes such a large quantity of water. It could have been designed a little bit better where it didn't require a whole hot water tank of water to fill it. I'd rather do my sit-down shower. Quite honestly, I would not use another walk-in tub after realizing the cost to keep it filled with hot water. Also, it needs to be lower. It's too high of a step up when you're handicapped. Other than that, I'm happy with the experience.


This tub turned out to be as good as advertised. Its many features make it a delight to use. It has worked perfectly from day one with no problems. Ellas was very helpful in working installation issues and answering questions.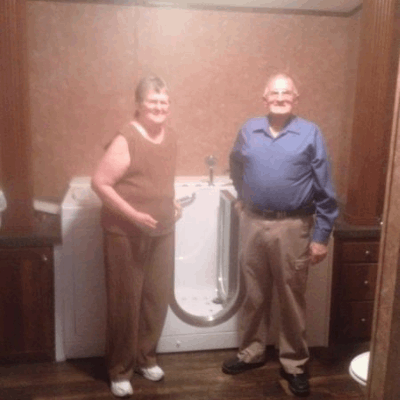 I needed hip repair and I needed a safer bathtub. I saw the American Standard advertised on the TV and I checked into that but it was way too expensive. Then I checked around other places. I happen to have a dealer in the closest big town to me and the company that he works with is Ella's Bubbles.
Read More
He recommended them so I checked online and decided that was the one I wanted.
At the time, the dealer in the area would rather sell hot tubs than step-in bathtubs and he wasn't good about finding out what model I would need. I wanted the pulsing bubbles to be on my neck and my shoulders because I have arthritis in my neck. Some tubs are shallower and I wanted a very deep one. But he didn't get back to me when I called him. So, I finally dealt directly with Ella's Bubbles in Chicago and ordered it right from the warehouse. I asked a lot of questions and the reps were good to work with. it was an investment for us. The tub is not cheap but it was a luxury I wanted to have. They were so helpful in explaining everything to me and how everything would work before I ever ordered it. Then they drop shipped it on a big truck right to my doorway.
After that, we called the contractor and he wanted to charge a couple of thousand dollars to take our other tub out. He said he wouldn't be able to salvage it because it would be too much work and we thought that was not good. It was only about 10 years old and it was a very nice bathtub that we had in there. So, we chose to do the installation ourselves. When the tub came, it was totally complete and all we had to do was get the old tub out, put the new one in, refinish the wall because the space isn't the same, and hook up the plumbing and electrical. My husband's very handy at this and the installation was very easy for us.
We got the step-in bathtub and it is the Capri model. It is tall and has a door that swings open. You can have the door swing in or swing out but I couldn't see any reason having a door in there with me, so mine opens from outside. When you make a little five-inch step into the tub, you got handrails to hang on to so you won't slip and fall. When you sit down on an elevated seat, it's all molder fiberglass. And when you pull the door shut and lock it, you're gonna fill this thing with water and you can't get out until the water is out or you will have it all over your house. But it's totally a safe way for elderly people. I'm gonna be 70 and it was just time. If I want to continue taking enjoyable bubble baths, I needed something like this.
I love our Ella's Bubbles tub and and I'm enjoying it. I even wrote them a letter of recommendation as I had a good turnout from them. I had good service and everything went beautifully. The tub takes a great amount of water and when someone gets in it, you just place your amount of body weight and volume so it's not that much, but I use it every day either to shampoo my hair or shower. There is a handheld shower in it. But to fill the tub up, I try not to do it more than once a week because it needs a lot of water.
Other than that, I'm so relaxed when I use the tub and my muscles feel good. The hydrating bubbles got a lot of force so they're pushing on whenever you let them rub on your body. They massage you then there's the micro bubbles feature which is an extra thing that I wanted because the sales pitch from everybody I talked to was that the bubbles are so penetrating to your skin that they clean the pores. They said that the bubbles soften your skin and you don't even need soap in it. Of course, if you put too much soap, you get too many bubbles because of all the bubbling action. But my skin is so soft. I used to get dry skin in the winter time when the season change. My elbows would get dry and I'd lather on the lotion, but I don't have to do that anymore. These micro bubbles debride your skin gently. They're not pulling your skin off but they get rid of your dead skin cells and you are totally clean.
Ella's Bubbles are also a phone call or a computer click away when I need them and they get right back to me. In fact, we had one little episode when I got in the tub and it was taking longer to fill up than it normally did. The pressure of the water was making a lot of noise and when I turned it off, I saw that the water was running out the drain. It was no wonder the tub was not filling up. I had to empty it to see what the problem was and there was a little gasket on the plunger seal that seals the tub when you shut the drain had come loose. I called the company and asked if it was something that had been glued on or was it supposed to come off. Their rep said no and they sent me the whole new stainless plunger that goes down into the tub and seals it. I didn't even need all of them. But the reps of Ella's Bubbles were very good. They want their customers happy, so when any little thing happens, they're right there to help.
All in all, I'm very happy with company and I've recommended it to all my friends and all my girlfriends of my age in arthritic situation. None of them have tried it out and I told them to come over, take a bath in my bathtub, and see how nice it is. They're all very envious and say that if they ever get one, they're gonna get the kind I got. I'm a good spokesman of the company because I'm very happy with my tub.


I did my own research about tubs and I knew what I wanted. Initially, I had a company come out and I was shocked of what it was gonna cost me to have it put in. So after they left, I started scanning on the internet and I found something that I really liked. It was an Ella Bubble's tub and with all of the installation and everything else, the price turned out to be $9,000 less than what the other place was gonna give me.
Read More
And it had more of what I wanted, so I went with Ella's Bubbles.
I also saw the tub on Amazon where you can buy it with just the tub alone or with all the things in it, then Amazon offers an expert installation for $250 which seemed nearly impossible. I called Home Depot and Lowe's as well and everybody was willing to sell it to me, but they couldn't find anybody that was willing to install it. And once they called and talked to me about exactly what it was for installation, they would say they couldn't do it.
So, I ended up calling Ella's Bubbles directly. I told them that I liked their product but no one wanted to touch it, so I asked them how I could get it installed. Apparently, the manufacturer only allows certain trained people to put the tubs in because the installation involves not just plumbing but electricity, construction, and some other things. So, they referred me to the one company in California that does it and they happen to be kinda near here. I called them and they were experts. They came out and told me how much everything was gonna cost. It was thousands of dollars less and I was pleased.
My new tub has all the bells and whistles that everybody's offering but the one thing that's different is that the door to get in to the tub is made out of a tempered glass which I really like. It looks pretty and really nice in the bathroom. The rest of the tubs out there don't have that and their doors are just made out of the same materials that the bathtubs are made out of. I would also recommend Ella's Bubbles to others for the quality of the tub and the customer service that I received. And the cherry on top was it was so much less expensive.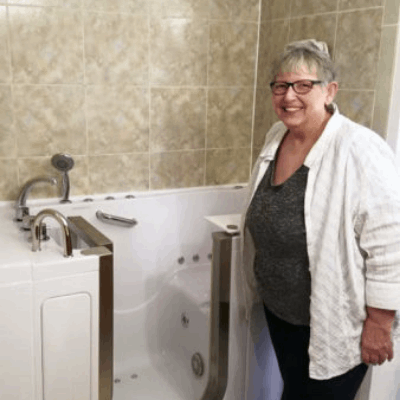 I am enjoying the tub that I got from Ella's Bubbles. It's really good and I look forward to using it in the evening. I'm very pleased with it and I'm so glad to have it. It helps with the legs, the back, and the neck. But the seats are very cold and whoever wants a tub has got to have the option for the heated seat.
Read More
If that would cost extra, I would've paid it since I paid $13,000 cash for my tub. So I'm upset with the company that sold it to me because I was never offered the heated seat. What happened was, they had inventory that they wanted to get rid of, so I was told that they only had a couple of left-hand doors or right-hand doors left. They gave me the sales pitch and told me that if I wanted a right-hand door, I had to take advantage of it.
I also had an issue with Reuben, the guy that installed the tub. He knew how to install it and he did a good job. But he messed up our wall terribly. I'm turning 80 tomorrow while my husband is almost 82, and this guy took advantage of us big time. My kids were furious when they saw the state of the wall. There was a lot of stuff and it was tacky and not taken care of.
At the time, we were invited to this beautiful wedding in the Southern Hotel down at the bay in San Diego and I ordered designer shoes for the occasion. When we got back at 2:00 o'clock in the morning on Saturday morning after the Friday night wedding, we had to get the shoes off because my feet and legs were all swollen because of the sciatica. My husband positioned these shoes under our bed. Then the installer came out on Monday morning to do our new tub. We had a lot of stuff to move then Reuben brought this big machine and they were busy. We were keeping out of the way and after they left on Tuesday evening, I went looking for my shoes and they were missing. But I didn't move my shoes as I couldn't get on low on the floor because of sciatica. I also took pictures while they were here and I know that Reuben took my shoes. Now all my friends are saying that Reuben's wife is wearing them.
And when he came back September 20th, which was our 60th wedding anniversary, I got after him about the shoes and he was blinking like crazy. I hope he never comes back again and I don't want him to. But at the same time, if anything goes wrong with Ella's Bubbles, we'll have to get him back again and I'm very sad about that. So, I'm not going to be all gooey getting others to buy an Ella's Bubbles tub because of Reuben since this company is the only one down here that sells Ella's Bubbles.
Other than that, I found Ella's Bubbles's lie-in tub on Amazon and I was gonna get that, too. But I'm so unhappy with the people that sold me my first Ella's Bubbles tub and the crew they sent out for the installation that I didn't bother. I know Home Depot also sells Ella's Bubbles lie-in tubs and we may just go there. But I would never go back to this company because Reuben would be coming back and we will not have him in the house again. I'm still trying to get the issue sorted out with his company because one way or the other, I'll never get my shoes back, but they are going to reimburse me for those shoes. When I tried to call the retailer and left messages, I was totally ignored. I kept asking for the manager because he was so sweet and nice when I was talking to him, but nobody is willing to call me back.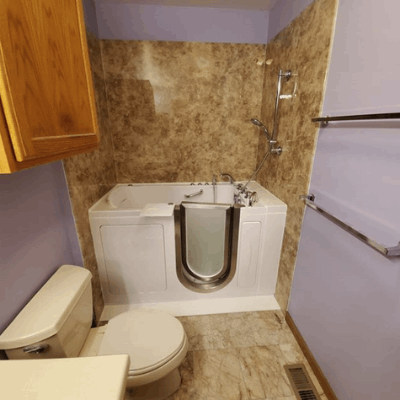 I'm a designer and I heard about Ella's Bubbles from Crawford Building Supply. They had a sample in the warehouse, so my first client and I went there to have her sit in the tub. It was one of the models right off the floor and we ended up purchasing that. I went to Crawford and they did the paperwork.
Read More
After that, I purchased another tub for my second client who I took directly to Ella's Bubbles or the warehouse. Being able to go to the Chicago warehouse was helpful to both my clients to actually sit in the tub and everybody that we worked with there was wonderful.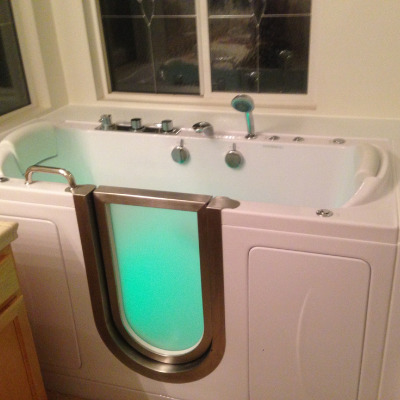 I spoke with several representatives and I did an evaluation. I figured that I would be best heard with Ella's Bubbles so, I went with Ella's. Also, I like the idea of the double drain and that it will drain real fast. I called their customer service when I had a question and they answered it for me.
Read More
Also, I did the installation myself and it was very easy. My wife really enjoys the tub. She likes it. It drains really fast without having to have a motor on it. And the price was good. I would definitely recommend Ella's Bubbles.


We're doing all the projects for the VA here in Texas. The person that's in charge over the program referred us to Ella's Bubbles and from there, we started using them. Our first purchase was about three months ago and it was a walk-in tub. I got the Deluxe and it has the jets and everything in it, for the floor, for my calves, and for my back and lower back.
Read More
Also, it has the lights inside and the frosted glass door.
The sales rep was very helpful. She sent me the information on what products Ella's Bubbles offered, as far as the one I got. She sent me the products that they sell and offered other ones, for future needs. She took the time to help me out and guide me. The installation part was pretty easy on my part. With the manufacturing part, however, there was a little problem. There was a lot of parts that weren't tightened down to specs. They were all loose. And when I originally installed it, I started having leaks here and there. I liked the pre-install without installing it permanently which was where I found the leaks. Once I found the leaks, I did the adjustment that needed to be done and I called to say the tub wasn't properly assembled. They apologized. I'm not gonna say I have a bad product over that, because the product is still good. The veteran uses it pretty much every day and is very happy with it.


Ella's Bubbles was one of the few manufacturers who had a companion tub. The sales rep was very good and everything arrived just like they said it would. It took a little bit of work to fit it into the bathroom. We had to take a wall out but it fit. Once we got the tub in and all the plumbing and wiring finished, we tested it and built the wall back up. The tub is in use now and it feels good.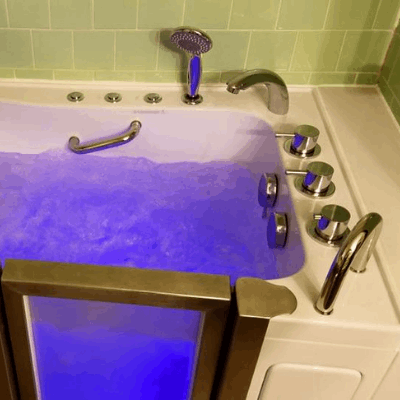 Ella's Bubbles offered a tub with a foot massager only, so I didn't have to fill the whole tub with water. I can only put 12 inches and then it would do the job. The reps at Ella's Bubbles were quite pleasant. I had some technical questions I wanted answered and they were able to answer them.
Read More
The one thing that I did have a problem was with the wiring on the service box. It was not done per their specs so, I had to rewire it per their specs myself. It was not a big deal but I like things done in a manner that is appropriate. Other than that, they were pleasant to work with.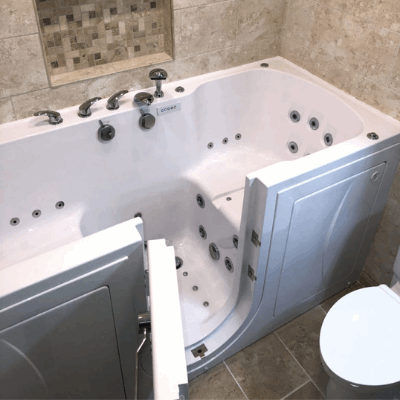 Ella's Bubbles had the dimensions and specifics that we were looking for. We got the tub that blow air bubbles and water bubbles, and it has a door so it's good for people who are above a certain age. Also, I'm not sure if it's ADA compliant or not, but it's fairly easy to use and sit on.
Read More
I placed the order over a phone call with Ella's Bubbles and the reps I talked to were very forthcoming. They answered the questions. We generally use the tub over the weekend and it's good. It does the job and we haven't had any issue with it so far. We hope it stays that way towards an extended period.