Ella L-Shape Outswing Door Transfer Walk-In Tubs
Ella Transfer walk-in tubs feature the outswing aluminum L-Shape Door. This extra wide, L shaped barrier-free sidewall design, allows bathers to easily sit or transfer from a wheelchair into a comfortable, wide molded seat. These models are also very popular for non-wheelchair users who are looking for effortless slide-in access to the seat. The large L-shape outward swing doors are made out of a light, but strong aluminum frame with a white acrylic cover that elegantly matches the glossy acrylic finish of the tub.
Read More
• Extra wide, easy entry, L-shaped doors for easy access even for wheelchair users. The door fits over a standard size toilet.
• Ella's Unique two shaft gear and lock mechanism with easy close handle assures a tight leak-proof door seal.
• Durable, bright, easy to clean acrylic surface backed by a stainless-steel frame with multiple leveling legs means a lifetime of durable, reliable service.
• Five models to choose from with a wide variety of lengths and widths
• Independent foot massage available in all models
• Proprietary dual drain technology. Dual T-Type 4 port drains provide the fastest gravity driven drain system in the industry. Under ideal plumbing conditions, your tub can drain in 80-120 seconds. Natural, gravity driven drains are the most reliable, as they require no electricity to operate, whereas electrical driven drains may fail due to electrical shorts or power outages.
Important Walk-In Tub Information
| | Transfer30 | Transfer32 | Transfer26 | Transfer60 | TransferXXXL |
| --- | --- | --- | --- | --- | --- |
| Dimensions of Tub WxLxH | 29x52x40 | 29x52x40 | 26x52x40 | 30x60x42 | 36x55x40 |
| Dimensions of Crate WxLxH | 32x54x50 | 34x54x50 | 30x54x50 | 32x62x50 | 38x60x50 |
| Threshold Height | 7″ | 7″ | 7″ | 7″ | 7″ |
| Threshold Lowering Option | 4.5″ | 4.5″ | 4.5″ | 4.5″ | 4.5″ |
| Seat Width | 22″ | 25″ | 20″ | 22″ | 29″ |
| Seat Height | 17″ | 17″ | 17″ | 17″ | 17″ |
| Width of Door | 36″ | 36″ | 36″ | 36″ | 36″ |
Important Information
Transfer30
Transfer32
Transfer26
Transfer60
TransferXXXL
Gallons USA (Unoccupied)
75
80
65
90
110
Gallons USA (Occupied)
45-55
45-65
30-40
55-75
65-85
Suggested Water Heater*
75
75
75
75
75
Approximate Drainage Time**
80 Seconds
80 Seconds
80 Seconds
80 Seconds
120 Seconds
Drain/Door Location
Right or Left
Right or Left
Right or Left
Right or Left
Right or Left
Product Net Weight LBS
220
220
220
220
240
Product Shipping Weight LBS
300
300
300
300
320

*Suggested water heater size for a household with only a single bather. A household with any additional bathers should consider the next size available water heater. **Approximate Drainage Time is under ideal plumbing conditions, your drainage times may vary.***Net and shipping weight depends on what packages is ordered
Features & Benefits
| | Transfer30 | Transfer32 | Transfer26 | Transfer60 | TransferXXXL |
| --- | --- | --- | --- | --- | --- |
| Grab Bar(s) | 2 | 2 | 2 | 2 | 2 |
| Gallons USA (Occupied) | 3 | 3 | 3 | 3 | 3 |
| Hydro Jets | 13 | 13 | 13 | 13 | 13 |
| Air Jets | 17 | 17 | 17 | 17 | 17 |
Our walk-in tubs are equipped with the industry best Ella Dual Drain Technology. This gravity driven dual 2" four-port drain provides fast and efficient draining and reliable and fast exit from the tub. The tub will drain in approximately 80 to 120 seconds depending on water volume, bather's body size, and house drain conditions.For more information, visit Dual Drain Technology.
Ella light-weight, yet durable aluminum L shape outward swing doors are made with a 2-latch gear and shaft lock mechanism which allows for equal pressure to the door gasket throughout its entirety and guarantees a leakproof door seal. The L shape door opening allows for toilet clearance up to 21" height and convenient transfer from the wheelchair into the seat over the soft and warm to touch acrylic shell.
Experience an instant, in-home foot massage with the brand new Hydro + Independent Foot Massage option in just minutes!
Most Popular Therapeutic Massage Options:
• Air + Hydro
• Hydro + Hydro/Independent Foot Massage
The Hydro and Air package delivers dual therapeutic relief. The Hydro Massage System includes a hydro pump with an in-line water heater, which keeps the water in your tub at a comfortable temperature. Strategically positioned hydro jets give you a targeted massage. With the intensity control dial, you can adjust the strength of the water massage to where you are most comfortable.
The Air Massage System, functions with an air pump and a 3-speed variable push control. Strategically positioned air jets reach parts of your body that other tub manufacturers often ignore. Air massage also comes with the auto purge cleaning system. Auto purge clears the moisture from your tub's air system after bathing to keep your tub free from mold and mildew.
Enjoy a full body hydro massage with Ella's innovative jetting design, or simply just have a powerful, rejuvenating independent foot massage by quickly filling the foot well and using the 4 independent jets dedicated for your feet and calves. No need to fill the whole tub to enjoy a relaxing, luxurious hydro foot massage. The footwell fills in just minutes!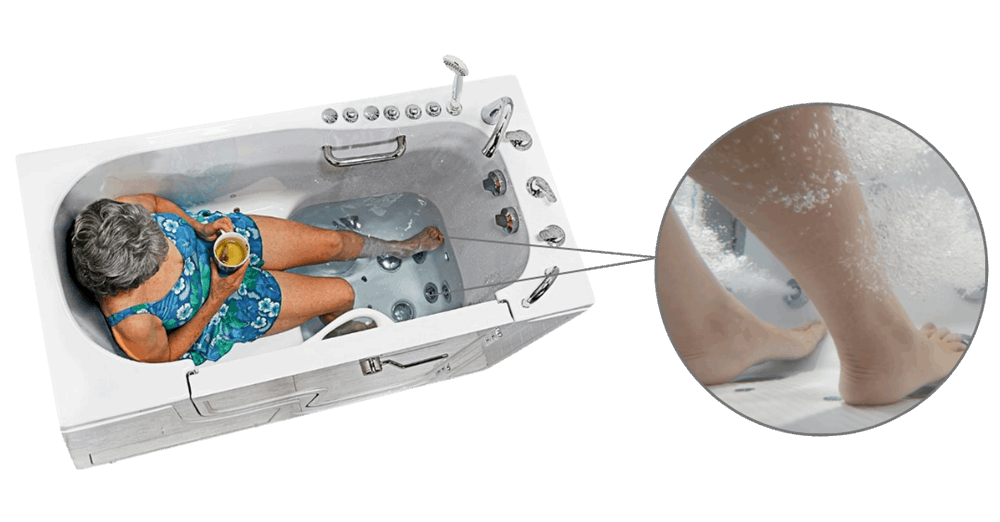 Ella Gravity Driven 2″ Dual Drain Technology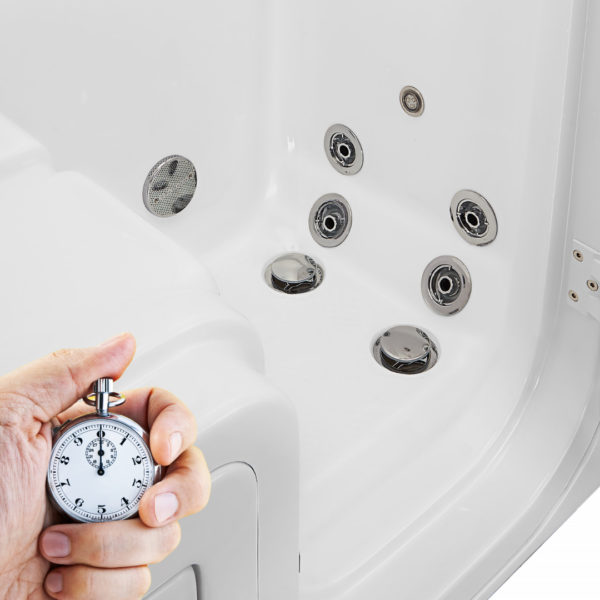 The best fast drain in industry – no power required! Ella gravity driven 2″ dual drain technology with independently operated 2 openers, 2 overflows for fast and reliable drainage and exit out of the walk-in tub. This drain can be connected to 4 x 2 inch outlets vs. one 1 1/2″ standard bathtub drain. See details in product page downloads or visit Dual Drain Technology.
Ella 2-Latch L-Shape Out-Swing Door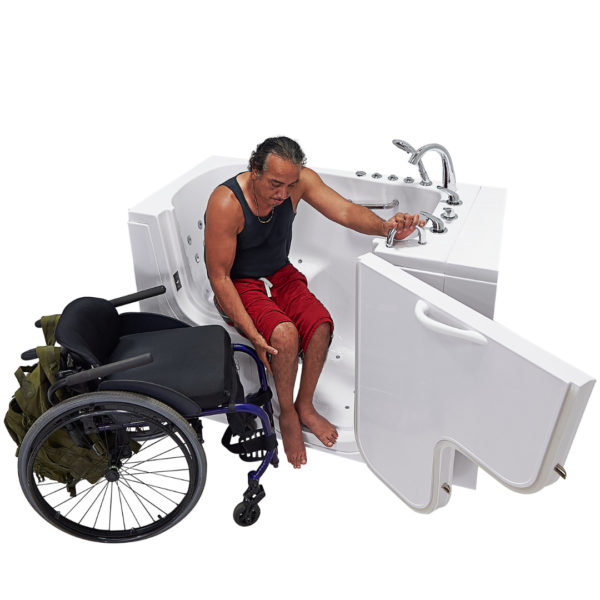 Our aluminum frame outward swing L-shaped door is equipped with our unique gear and shaft driven 2-latch door edges out our competition who typically use a single latch/lever system. A 2-latch door system provides a more secure and watertight door seal than the conventional single latch system, providing you with a leak-free bathing experience.
Independent Foot & Calf Massage (Optional)
Ella walk-in tubs are equipped with 4 adjustable foot jets and 2 adjustable calf jets for maximum relaxation. These jets are strategically positioned in the lowest possible area of the floor for bathers to enjoy a powerful foot massage in a relaxed position. No need to fill the whole tub, the foot well fills in just a couple of minutes!