Select a tab to learn more
Description
Soaking (No Jetting)
The walk-in tub shell of the Transfer is constructed with premium acrylic in a white glossy finish, supported by a stainless-steel frame with adjustable leveling legs, and reinforced with fiberglass gel coat layers. The nonporous acrylic surface is easy to clean and impermeable to mold and mildew. A textured floor, low step-in threshold, one deck and one wall mounted U-shape stainless steel grabs in a chrome finish, enhance your safety and allow quick and safe entry and exit in and out of the tub.
The Transfer's main feature is the door which is made from aluminum L-Shape Outward Swing Door The door is 36" wide, and swings outward from the tub to allow the bathers to comfortably enter and exit the tub. The door's distinct L-shape and the engineering of the outward swing allows the door to clear a 21" tall toilet and create a wide entry for an easy transition from wheelchair into a smooth acrylic seat. The sleek rubber handle mounted on the inside panel of the door aids in closing the door. The outswing door is equipped with a unique gear and shaft driven, 2-latch door lock system concealed with an acrylic decorative cover. The 2-latch system creates a more secure and watertight door seal, edging out our competition who typically use a single latch/lever system.
The Transfer comes with one of the best and exclusive features: Dual Drain Technology, consisting of two independent 2" gravity driven drains with four 2" outlets, 2 overflows and 2 drain openers, allowing for a fast and reliable drainage. 2 caps are also included to cover up to 2 of 4 ports if needed. The 2" drain outlets can be connected to the standard 1 ½" house drain with a T or Y fitting and piping provided by a professional plumber. It is suggested to connect all 4 outlets to the house drain for the fastest drainage possible. Typical drainage time is approximately +/- 80 seconds for this standard size tub within ideal in-home plumbing conditions. Ella gravity driven dual drains are fast and reliable because they do not require an electric pump, whereas electrical driven drains may fail due to electrical shorts or power outages.
This model also includes one reversible end panel for left or right corner installation options and one extension panel kit for 60" alcove installations. These panels cover the ends of the tub to give your walk-in tub a completed look. Additional panels can be ordered in the case your tub will be installed to the wall as free standing.
We provide a limited lifetime warranty*, of free replacement parts for the lifetime of the original customer living at the address of installation. This warranty is non-transferable to other customers or locations. Shipping costs and the labor of replacement(s) are not included.
Warranty (See Downloads)
Lifetime limited* warranty on shell, frame, door and parts to original purchaser.
Labor or installation is not covered.
Non-Ella brand faucets covered under manufacturers original warranty.
See Downloads for warranty certificate. Ask your sales agent to add the warranty changes to the invoice at the time of purchase.
1. Controller Options
We offer two control options: Push Control or Digital Control. Our Push Controls are easy-to-use push down buttons that will operate your chosen jetting and any additional features.
The digital control is our more modern option, giving you a digital keypad from which to control your jets and additional features such as Chromatherapy LEDs and heated seat & backrest. Since the Digital Control is smaller, it may be more difficult for elderly to see and operate.
The Ella brand 4-fold shower screen is the best option in the industry for walk-in tubs because of the foldable feature that's not offered with a standard shower glass or curtains. This gives bathers an airy, open feeling with the option to easily push the screen aside. The lightweight glass, secured in an aluminum frame with quality gear hinges, is sturdy enough to endure rigorous daily use. Additionally, one of the 4-fold sections can be removed to create a 3-fold shower screen.
The Standard Seat Pillow Riser is designed to cover the bidet jets found in your Ella walk-in bathtub. This luxuriously thick pillow is incredibly comfortable and can be used as a riser or additional seat support in all walk in bathtubs. The interior material is washable and can be removed.
Our dual massage walk-in tubs have two air jets in the center of the seat. The U shape pillow is designed to accommodate these two bidet jets. If you want to cover bidet jets, you can utilize the regular seat pillow. This luxuriously thick pillow is incredibly comfortable and can be used as riser or additional seat support in all walk in bathtubs. The interior material is washable and can be removed.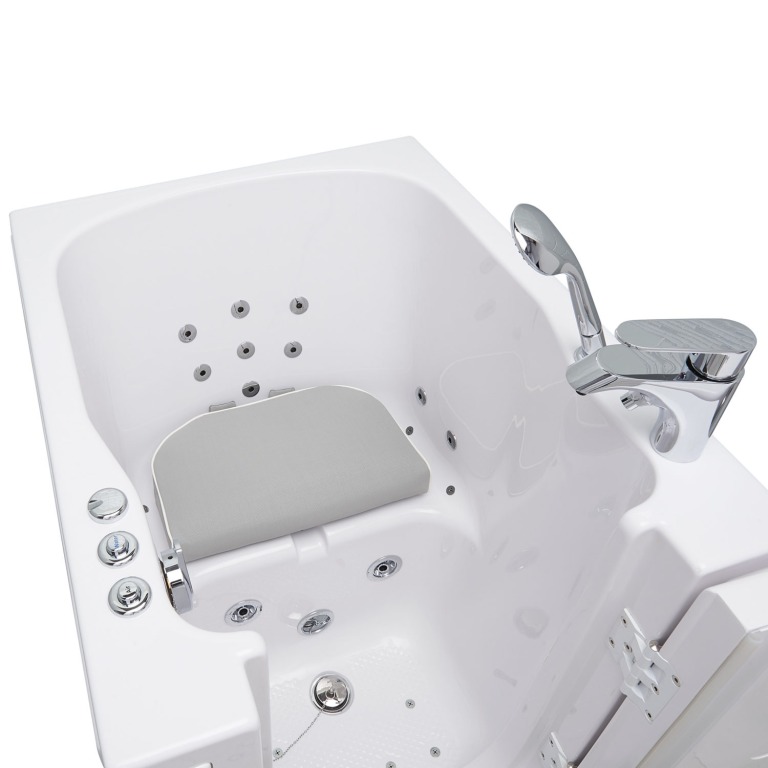 Increase your comfort with the Ella Walk-In Bathtub Headrest. The headrest can be mounted on the wall or on the deck using attached suction cups.