Two Seat Walk In Bathtubs
Ella's Bubbles pioneered the first ever luxury two seat walk-in bathtub. This unique design is especially helpful in assisted bathing or simply a way to create a relaxing, unforgettable experience for you and your loved one. Each model features two molded seats and a centered door. The Companion and Escape model are equipped with a brushed stainless steel finish inward swing door, while the Tub4Two & Big4Two are fitted with a U-shape outward swing door for easy access.
Read More
• Companion: The first ever two-seat tub created by Ella's Bubbles. 32" wide by 60" long with an inward swing brushed, stainless steel door. Fits a standard 60" bath alcove.
• Escape: Presenting Ella's Bubbles newest two seat walk-in tub. This roomy and stylish two seat tub is designed with your comfort in mind. With a generous overall length of 72" and a width of 36," this tub will accommodate a wide variety of bathers.
• Tub4Two: This tub measures in at 32" wide by 60" long but comes with an outward swing door. It also fits a 60" bath alcove.
• Big4Two: Experience the luxury of the largest two seat walk-in tub in the industry. 36" wide and 80" long, this tub provides more than enough space to stretch out with a loved one or all by yourself.
• All two seat tubs are made with a bright, durable, easy to clean acrylic surface backed by a robust stainless-steel frame. Multiple leveling legs provide easy adjustments and maximum stability for years of reliable performance.

• Proprietary dual drain technology. Dual T-Type 4 port drains provide the fastest gravity driven drain system in the industry. Under ideal plumbing conditions, your tub can drain in 80-120 seconds. Natural, gravity driven drains are the most reliable, as they require no electricity to operate. Electrical driven drains may fail due to electrical shorts or power outages.
• Four models to choose from with a variety of door styles and sizes
• Independent foot massage available
• Many different jetting packages are available, allowing you to design your own tub.
Important Dimensions
| | Tub4Two | Big4Two | Companion | Escape |
| --- | --- | --- | --- | --- |
| Dimensions of Tub WxLxH | 31.75x60x40 | 36x80x40 | 30.25×59.75×37 | 36x72x39 |
| Dimensions of Crate WxLxH | 33 x 62 x 50 | 38 x 73 x 50 | 35x65x45 | 40x76x49 |
| Threshold Height | 6″ | 6″ | 7″ | 7″ |
| Threshold Lowering Option | 6″ | 6″ | 6″ | 6″ |
| Seat Width | 20″/22″ | 22″/24″ | 23″/24.5″ | 27″/29″ |
| Seat Height | 17″ | 17″ | 15″ | 17″ |
| Width of Door | 19.75″ | 19.75″ | 16.5″ | 16.5″ |
Important Information
Tub4Two
Big4Two
Companion
Escape
Gallons USA (Unoccupied)
100
145
100
145
Gallons USA (Occupied)
50-70
45-65
45-65
85-135
Suggested Water Heater*
75*
80*
75*
75*
Approximate Drainage Time**
120 Seconds
150 Seconds
120 Seconds
140 Seconds
Drain/Door Location
Center
Center
Center
Center
Product Net Weight LBS
240
295
260
286
Product Shipping Weight LBS
380
483
360
398

*Suggested water heater size for a household with only a single bather. A household with any additional bathers should consider the next size available water heater.
**Approximate Drainage Time is under ideal plumbing conditions, your drainage times may vary.
.
Features & Benefits
Tub4Two
Big4Two
Companion
Escape
Grab Bar(s)
0
0
1
1
Thermostatic Control Valve
No
No
No
No
Water Supply Lines
1/2″
1/2″
1/2″
1/2″
Pull Out Hand Mixer Hose
Yes
Yes
Yes
Yes
Textured Slip Resistant Floor
Yes
Yes
Yes
Yes
Number of Access Panels
3
3
4
4
Hydro Jets
26
24
20
26
Air Jets
18
22
14
19
In-line Water Heater
D
D
D
D
Ozone Sterilization
D
D
D
D
LED Chromatherapy
D
D
D
D
Heated Seat
Optional
Optional
Optional
Optional
Options: S – Soaking, D – Dual Massage (hydro & air)
Gravity Driven 2″ Dual Drain Technology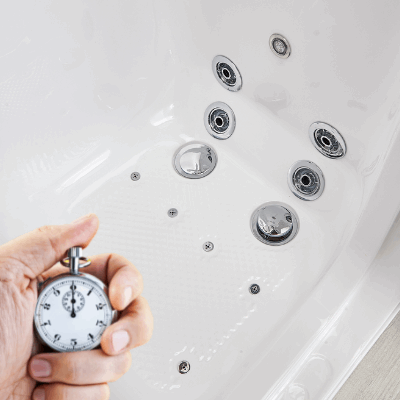 The best fast drain in industry – no power required! Ella gravity driven 2″ dual drain technology with independently operated 2 openers, 2 overflows for fast and reliable drainage and exit out of the walk-in tub. This drain can be connected to 4 x 2 inch outlets vs. one 1 1/2″ standard bathtub drain. See details in product page downloads or visit dual drain technology.
Gear & Shaft Driven 3-Latch Out-Swing Door
Our unique gear and shaft driven 3-latch door edges out our competition who typically use a single latch/lever system. A 3-latch door system provides a more secure and watertight door seal than the conventional single latch system, providing you with a leak-free bathing experience.
Foot & Calf Massage (Optional)
Ella walk-in tubs are equipped with 4 adjustable foot jets and 2 adjustable calf jets for maximum relaxation. These jets are strategically positioned in the lowest possible area of the floor for bathers to enjoy a powerful foot massage in a relaxed position. No need to fill the whole tub, the foot well fills in just a couple of minutes!