In addition to a twin two piece fast-fill faucet set, this tub comes with two extendable multi function hand showers. With the Hand shower extension kit, you can easily place one of the hand showers on the vertical riser and enjoy a wall mounted shower. You can shower standing or sitting, whatever is most comfortable for you.
Your Ella Big4Two tub can accessorized with exclusively designed Ella products. The three and four fold glass screens can be combined for a great alternative to a shower curtain. The dual rain shower heads can be added for comfortable and safe showering on either side of the tub, and the extendable multi-function hand showers make seated showering a breeze!
Gravity Driven 2″ Dual Drain Technology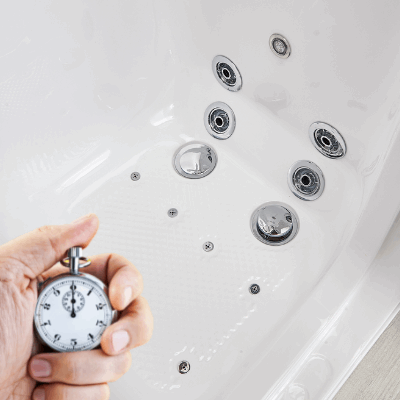 The best fast drain in industry – no power required! Ella gravity driven 2″ dual drain technology with independently operated 2 openers, 2 overflows for fast and reliable drainage and exit out of the walk-in tub. This drain can be connected to 4 x 2 inch outlets vs. one 1 1/2″ standard bathtub drain. See details in product page downloads or visit dual drain technology.
Gear & Shaft Driven 3-Latch Out-Swing Door
Our unique gear and shaft driven 3-latch door edges out our competition who typically use a single latch/lever system. A 3-latch door system provides a more secure and watertight door seal than the conventional single latch system, providing you with a leak-free bathing experience.
Foot & Calf Massage (Optional)
Ella walk-in tubs are equipped with 4 adjustable foot jets and 2 adjustable calf jets for maximum relaxation. These jets are strategically positioned in the lowest possible area of the floor for bathers to enjoy a powerful foot massage in a relaxed position. No need to fill the whole tub, the foot well fills in just a couple of minutes!
The Big4Two- The World's Largest Two-Seat Walk-in Bathtub
Since 2005, Ella's Bubbles has been gracing the industry with unthinkable models and products like the first two-seat walk-in bathtub, the uniquely spacious Lay-Down bathtub, and The ShaK- the biggest single seat walk-in tub. With such inventions, Ella's has fixed itself as a leading brand in balancing opulence and functionality. Now, with the pioneering of The Big4Two, Ella's has done it again!
Read More
Designed for big and tall bathers who want a shared bathing experience and measuring 80" long, The Big4Two has become the world's largest walk-in bathtub.
The Big4Two is vacuum formed from a solid, long-lasting acrylic sheet. The non-porous material in white gloss finish is easy to clean and impermeable to mold and mildew. Under the 80" long shell facade is a rust proof, stainless steel frame reinforced with multiple fiberglass mesh and gelcoat layers to ensure the durability of the tub's structure. The shell is accompanied by a U-shape contemporary style door made of industrial grade durable plastic composite material with a decorative tempered glass front screen to conceal the mechanical door lock system. The door uses a gear and shaft driven, 3-latch door lock that edges out our competition, who typically use a single latch/lever system. A 3-latch door system creates a more secure and watertight door seal, providing you with a safe, leak-free bathing experience. What's more, is the engineering of the door to open outwards, which creates maximum interior space so bathers can effortlessly enter and recline in the extra-wide, 21" and 26" molded seats.
Relax in The Big4Two with an optional heated backrest and seat while waiting to be immersed in water. Additionally, bathers have a choice of an Ella 5-Piece Fast Fill Faucet or two 2-Piece Fast Fill Faucets with 2 pull-out hand mixers to accommodate both bathers. Or, if bathers prefer to choose their own deck mount or wall mount faucets, the Big4Two can be ordered without a faucet. Ella's also offers optional accessories that can upgrade each faucet. For example, the rain shower column kit connects to the diverter on an Ella 5-piece (or two 2pc) deck mounted faucet in order to create an extended overhead shower. The stainless steel, chrome finish column can be effortlessly adjusted up to 7 feet tall. Along the column is a vertically movable, 5 mode multi-functional hand shower, and attached at the top is an oversize rain shower that can be directed with ease to the seat for a seated shower or footwell for a stand up shower. Complete the look with a 3-fold and/or 4-fold tempered glass shower screen, an airy alternative to shower curtains that may stick to the walls of the tub or a solid glass shower panel that may make bathers feel claustrophobic. Its lightweight glass and secured aluminum frame with quality gear hinges makes it easy to push aside to a folded position. And, while The Big4Two dominates the market as the largest two-seat bathtub, bathers can expect the fastest gravity driven drain in the industry with Ella's exclusive Dual Drain Technology.
At the push of a button, you and your partner can turn on 40 jets to transform a standard bath into an exhilarating experience that goes beyond unforgettable. While most of our competitors offer limited therapeutic options such as Hydrotherapy or Air Jet Therapy, Ella two seat walk-in tubs offer a wide range of therapeutic options, including the newest revolutionary therapies, such as Infusion Microbubble Therapy and our signature Independent Hydro Foot Massage. With two motors, the Big4Two has the ability to combine all 4 cutting edge therapies to create a Hydrotherapy + Independent Hydro Foot Massage + Air Jet Therapy + Infusion Microbubble Therapy package. Finally, bathers can reignite the passion with a loved one, or recline in an optional heated backrest and seat with your favorite book and enjoy the convenience of a daily independent foot massage with a friend. With the Big4Two, the possibilities are endless.
Read What Others Have to Say
The Big4Two is the biggest tub I've ever seen! I know it's advertised as such, but sometimes things aren't as large as what they're bragged to be. But this delivers!! My husband is 6'3" and I'm just under 6' and we both fit in here comfortably, we could almost even share a seat. Before this, neither one of us had been able to even take a bath, let alone together. This has been a game changer and I encourage every couple to look into getting one of these.
I originally wanted to get the ShaK, but my wife convinced me to go with the Big4Two so we can enjoy the tub together. At first I was against it- I wanted just something of mine alone. But once we got it and used it, I immediately understood why she wanted the Big4Two… I still get the jetting therapies I wanted, she gets her daily foot massage, and we are both satisfied. As much as I hate to admit my wife was right, the Big4Two was the right choice! Would recommend to anyone.
My husband had a stroke last year and it changed everything. While he has regained functionality with some things, motor skills and showering can still be difficult for him. I purchased the Big4Two to assist my husband with his bathing needs, and it has been more helpful than I could have imagined. The large seat lets me sit beside him and the bidet jets have been more useful than I thought possible. Additionally, the sanitization systems installed and material from which the bathtub is constructed from keeps the tub clean and is easy to maintain.
I love the Big4Two! It's so spacious inside and the amount of jets is kind of unbelievable! I was surprised the water stays warm because the tub is so large. It also drains faster than I expected too. Even when my husband and I aren't using it, my daughters like to hop in for foot massages, they call it the Spa Machine. Overall, the Big4Two has become a staple in our household.
I'm obsessed with the Big4Two! It's HUGE! I mean HUGE!!!! And the best part is it has a million jets that can be adjusted to reach any areas of concern. The jetted massage is way stronger than I anticipated. Plus, I use the foot massage practically every day. My husband and I put a TV in the bathroom, so on Friday nights, it's wine and relaxation time in the Big4Two… the perfect solution to long work weeks!