Taller bathers have never felt more comfortable stretching their legs in this oversized, one of a kind walk-in tub!
The walk-in tub shell of the ShaK is constructed with premium acrylic in a white glossy finish, supported by a stainless-steel frame with adjustable leveling legs, and reinforced with fiberglass gel coat layers. The nonporous acrylic surface is easy to clean and impermeable to mold and mildew. A textured floor, low step-in threshold, one 15″ wall mounted stainless steel grab in a chrome finish, and two 11.5″ white rubberized wall mounted stainless steel grabs, enhance your safety and allow quick and safe entry and exit in and out of the tub. 
The ShaK is the largest single seat walk-in tub in the WORLD! This never before seen model is designed for athletes and bathers who are 6'5" and taller. The ShaK walk-in tub measures at 36"W x 72"L and has a regal 29" wide seat. The ShaK's main feature is the door which is made from industrial grade durable plastic composite material with a decorative tempered glass screen to conceal the mechanical door lock system. The door is 19 1/4" wide, and swings outward from the tub to allow the bathers to comfortably enter and exit the tub. The outward swing door also creates more interior space, which allows bathers to effortlessly sit into the molded seat, pull the door and lock it. Ella U-Shape outward swinging doors use a gear and shaft driven 3-latch door lock that edges out our competition, who typically use a single latch/lever system. A 3-latch door system creates a more secure and watertight door seal, providing you with a safe, leak-free bathing experience.
The ShaK comes with one of the best and exclusive features: Dual Drain Technology, consisting of two independent 2" gravity driven drains with four 2" outlets, 2 overflows and 2 drain openers, allowing for a fast and reliable drainage. 2 caps are also included to cover up to 2 of 4 ports if needed. The 2" drain outlets can be connected to the standard 1 ½" house drain with a T or Y fitting and piping provided by a professional plumber. It is suggested to connect all 4 outlets to the house drain for the fastest drainage possible. Typical drainage time is approximately +/- 120 seconds for this oversized size tub within ideal in-home plumbing conditions. Ella gravity driven dual drains are fast and reliable because they do not require an electric pump, whereas electrical driven drains may fail due to electrical shorts or power outages.
This model also includes one reversible end panel for left or right corner installation options. These panels cover the ends of the tub to give your walk-in tub a completed look. Additional panels can be ordered in the case your tub will be installed to the wall as free standing. 
We provide a limited lifetime warranty*, of free replacement parts for the lifetime of the original customer living at the address of installation. This warranty is non-transferable to other customers or locations. Shipping costs and the labor of replacement(s) are not included.
Warranty (See Downloads)
Lifetime limited* warranty on shell, frame, door and parts to original purchaser.
Labor or installation is not covered.
Non-Ella brand faucets covered under manufacturers original warranty.
See Downloads for warranty certificate. Ask your sales agent to add the warranty changes to the invoice at the time of purchase.
Therapeutic Jetting Options Available (2)
Air Jet Massage + Hydrotherapy Massage System + Independent Foot Massage
Air Jet Massage + Hydrotherapy Massage System + Independent Foot Massage + Infusion Microbubble Therapy
Hydro Massage System
The Hydro Massage System includes: a hydro pump with an in-line water heater, eco-friendly ozone sterilization system, hydro massage intensity dial control, and strategically positioned hydro jet system for targeted and effective massaging.
The in-line water heater helps maintain the water temperature at constant level while bathing, if the water tank can produce enough hot water. It is suggested to upgrade to the largest available 75-gallon water heater to ensure enough hot water. Please consult with a professional contractor to determine if your water tank can provide enough hot water for a walk-in bathtub. Our ozone sterilization system is the most eco-friendly, chemical free disinfectant that can eliminate a wide variety of inorganic, organic, and microbiological bacteria. The sterilization system is especially helpful in eliminating odors and hygienic maintenance. The in-line water heater and ozone sterilization automatically engage when the hydro massage push control is pressed down when turning on your jets. The hydro massage intensity dial control allows you to adjust the strength of the water stream by adding more or less air into the hydro system.
The Ella ShaK has twenty-one (21) strategically placed hydro jets in order to deliver optimal therapeutic relief. Fifteen (15) upper fixed jets work to provide relief to your back, hips and thighs, while six (6) lower adjustable jets massage your feet and calves. Two (2) of these lower jets were specifically placed on the floor of the tub to maximize the enjoyment of a foot massage.
The Hydrotherapy Massage System's most popular control system is the on/off push control because the buttons were designed to rise above the deck in order to make it easier to push. A smaller, digital controller is also available for the Air+Hydrotherapy Massage Package, but may be more difficult for elderly to see and operate.
Independent Hydro Foot Massage System
The Hydro + Independent Foot Massage package uses two independently run pumps to give bathers a simultaneous full body and foot massage. Or, bathers can enjoy an independent foot massage within minutes of simply filling the foot well up the seat level. The foot massage system includes a hydro pump with an in-line water heater. Please note: if you choose the Hydrotherapy + Independent Foot Massage package, your walk-in bathtub will come with one (1) in-line water heater that will be used with the independent foot massage feature. Both the strategically positioned upper and lower jets powered by two hydro pumps have an intensity dial air control to adjust the strength of the water pressure to your liking from a gentle pressure to a more rigorous massage.
Air Massage System
The Air Jet Massage System includes an air pump with a 3-speed variable push control, strategically positioned air jets for optimal therapeutic relief, and an auto-purge to maintain an air system free of any build ups. The Air Massage System's most popular control system is the on/off push control because the buttons were designed to rise above the deck in order to make it easier to push. A smaller, digital controller is also available for the Air+Hydrotherapy Massage Package, but may be more difficult for elderly to see and operate.
The ShaK has sixteen (16) strategically placed air jets that pull in air and blow it into the water to create a gentle, relaxing massage. Twelve (12) upper, fixed flat jets work to provide relief to your back, hips and thighs, while an additional four (4) floor jets located in the lower foot area deliver a gentle massage to your feet and legs.
The Air Jet Massage System also includes an auto-purge feature. This feature engages automatically 20 minutes after the pump has been turned off to purge water out of the air jet lines. The auto-purge will run for 120 seconds to ensure your system is clear and free of moisture and excess water helping to prevent the mildew build up.
Note: This massage is more gentle than a Hydrotherapy Massage.
Infusion™ MicroBubble Therapy
Ella Infusion™ MicroBubble Therapy System consists of a single Microbubble jet connected to a hydro pump and Microbubble Tank System. The high-pressure hydro pump, along with the Microbubble tank, breaks down the water molecules into billions of tiny bubbles which are then sent out through the single jet. At the push of an on/off button, this feature can provide a moisturizing, exfoliating therapeutic experience all while detoxifying and relieving skin related issues.
For more information, visit Infusion™ MicroBubble Therapy.
1. Controller Options
We offer two control options: Push Control or Digital Control. Our Push Controls are easy-to-use push down buttons that will operate your chosen jetting and any additional features.
The digital control is our more modern option, giving you a digital keypad from which to control your jets and additional features such as Chromatherapy LEDs and heated seat & backrest. Since the Digital Control is smaller, it may be more difficult for elderly to see and operate.
The Ella brand 4-fold shower screen is the best option in the industry for walk-in tubs because of the foldable feature that's not offered with a standard shower glass or curtains. This gives bathers an airy, open feeling with the option to easily push the screen aside. The lightweight glass, secured in an aluminum frame with quality gear hinges, is sturdy enough to endure rigorous daily use. Additionally, one of the 4-fold sections can be removed to create a 3-fold shower screen.
The Standard Seat Pillow Riser is designed to cover the bidet jets found in your Ella walk-in bathtub. This luxuriously thick pillow is incredibly comfortable and can be used as a riser or additional seat support in all walk in bathtubs. The interior material is washable and can be removed.
Our dual massage walk-in tubs have two air jets in the center of the seat. The U shape pillow is designed to accommodate these two bidet jets. If you want to cover bidet jets, you can utilize the regular seat pillow. This luxuriously thick pillow is incredibly comfortable and can be used as riser or additional seat support in all walk in bathtubs. The interior material is washable and can be removed.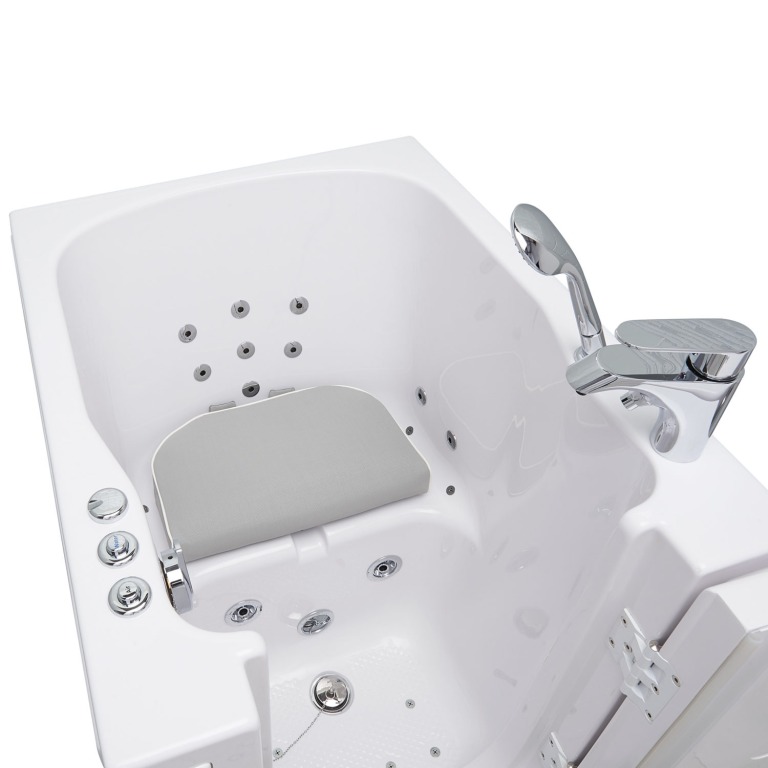 Increase your comfort with the Ella Walk-In Bathtub Headrest. The headrest can be mounted on the wall or on the deck using attached suction cups.
Meet The ShaK- The World's Largest Single Seat Walk-in Bathtub
From the pioneers of Big4Two, the largest two seat walk-in bathtub, Ella's Bubbles unveils its much anticipated ShaK- the world's biggest single seat acrylic walk-in tub designed for athletes, bariatric bathers, and people 6'4" or taller. While the industry offers deep walk-in bathtubs, Ella's ShaK distinguishes itself by offering the deepest and longest walk-in tub. Now, big and tall bathers can immerse themselves in the luxuriously long, 72" bathtub by simply walking through the outward swing contemporary U-shape door and sitting in an ultra-wide 29" seat. And, while the ShaK dominates the market as the largest bathtub, bathers can expect a quick fill time with Ella's 5- Piece Fast Fill Faucet and the fastest gravity driven drain in the industry with our exclusive Dual Drain Technology. 
The ShaK is equipped with a total of 37 jets, including 3 bidet jets used to aid in cleaning difficult to reach places. While most of our competitors offer limited therapeutic options such as Hydrotherapy or Air Jet Therapy, Ella's Bubbles offers a wide range of therapeutic options, including the newest revolutionary therapies such as Infusion Microbubble Therapy and our signature Independent Hydro Foot Massage. Plus, with two motors, customers have an option to combine all 4 cutting edge therapies to create a Hydrotherapy + Independent Hydro Foot Massage + Air Jet Therapy + Infusion Microbubble Therapy package. 
 The ShaK is tailored to athletes who are looking to recover from years of muscle, joint, or ligament wear and tear. Current athletes and gym junkies can also experience superior rejuvenation by throwing in a bag of ice for a jetted, multi-therapeutic ice bath. Additionally, big and tall bathers reek many benefits, such as: deep or gentle tissue massage, improved blood flow and circulation, and elements that aid in exfoliating, detoxifying, moisturizing, and relieving any skin related issues. Come experience the change big and tall bathers have been waiting for with Ella's ShaK.
Read What Bathers Have to Say
It's been 20 years since I've been able to fit inside of a bathtub, but let me tell you- bathing in the ShaK has been a game changer! Just reclining inside of a tub is groundbreaking enough, but more… the jets feel so good!! Being 6'11 takes a toll on your body. I constantly have back pain and I've sprained my ankle numerous times. But with the therapeutic jets, my body is continuously rejuvenated. 
-John C. 
Most people are amazed by digs- and they should be! But, what's not amazing are the bruises and tears in ligaments from dig and barrel roll over the years. They look great, but they hurt for days! Soaking in a bathtub always helps, but the only problem is, at 6'3" it's hard to soak. Instead, my knees pop up or I can only last a few minutes before feeling too cramped. But when I heard about Ella's ShaK, I begged my husband to get one and he caved (he's 6'6" so didn't hate the idea of a tub he could also fit in). I frickin love it!!!!! It has like a million jets and a dial that I can control the strength of the massage…  seriously better than any ice bath I've taken. I'm just mad this bathtub wasn't invented when I was a younger player, could've saved me hours of recovery time.
-Sarah G.
I think I must've had at least three concussions during my time as a football player, but what's left the most residual effect is the years of hard tackles. Sometimes I think my body is actually made of concrete, I seriously can't move. But what has been so helpful is the ShaK. Not only can I actually fit inside, the massage jets feel so good on my muscles and lasts even after I'm done with my bath. I'm so thankful I finally found a form of rehabilitation that I can use everyday in my own home.
-Vince N.
Water has always been my friend, unless it comes from a bathtub. Then, I hate it! Not because of the water, but because I can't fit in a tub to enjoy it. Actually, I haven't been able to sprawl out in a bath since I was a teenage girl. But that all changed when I discovered the Ella ShaK. This tub is amazing! I know it may seem like I'm not old enough for a walk-in tub, but at this point I don't think I'd ever consider anything else. The interior is HUGE. Even I have extra room. But besides being able to lounge in the tub, the best thing about it is hands down the jetting options- an athlete's best friend!
-Michelle W
Fans love a good hockey fight but players only love them in the moment. After games and weeks of delivering hard hits, you begin to question if fights and extra hard checks are necessary. Your body tells you they're not! But once I got the ShaK, I felt like I was in the AHL again! I use the massage jets daily and just soak it up for at least an hour a day. And within three months, my muscles felt restored and refreshed. My workouts got better, my time on the ice increased, and my strength was noticeable by my opponents. The ShaK not only helped me recover from years of brutality my body endured, but it also made me a better player.
-John S.
 I might as well be a fish, I practically live in the water. From morning polo practices to late night practices, it seriously never ends! But my favorite time in the water is when I get to relax in my ShaK. But with the adjustment of the jets and water pressure from the massage, I'm in complete control. 
-Andrew M