Soaking Option (No Jetting)
The Petite is the smallest model amongst the inward swing stainless steel door bathtubs. This model is recommended for average or petite body types and ideal for smaller or narrow bathrooms. This models measures at 28"W x 52"L and has a spacious 20" wide seat. The Petite's main feature is the door which is made from beautiful, custom brushed stainless steel with a frosted tempered glass window to give it a sleek, contemporary look. The door is 16 ½" wide, and swings into the tub to allow the bathers to easily enter and exit the tub without being in the way of other bathroom fixtures such as a toilet or vanity. These inward swing doors are also easier to close once inside the walk-in tub. The extended stainless steel door lever was uniquely designed to bypass the bathers' leg when locking and unlocking the door in a seated position. The lever lock, along with the door gasket, creates a secure and watertight door seal, providing you with a safe, leak-free bathing experience. Another key feature available on all Ella inward-swing door models, is our patented detachable 360° swivel tray.
The Petite comes with one of the best and exclusive features: Dual Drain Technology, consisting of two independent 2" gravity driven drains with four 2" outlets, 2 overflows and 2 drain openers, allowing for a fast and reliable drainage. 2 caps are also included to cover up to 2 of 4 ports if needed. The 2" drain outlets can be connected to the standard 1 ½" house drain with a T or Y fitting and piping provided by a professional plumber. It is suggested to connect all 4 outlets to the house drain for the fastest drainage possible. Typical drainage time is approximately +/- 80 seconds for this standard size tub within ideal in-home plumbing conditions. Ella gravity driven dual drains are fast and reliable because they do not require an electric pump, whereas electrical driven drains may fail due to electrical shorts or power outages.
This model also includes one reversible end panel for left or right corner installation options and one extension panel kit for 60" alcove installations. These panels cover the ends of the tub to give your walk-in tub a completed look. Additional panels can be ordered in the case your tub will be installed to the wall as free standing.
We provide a limited lifetime warranty*, of free replacement parts for the lifetime of the original customer living at the address of installation. This warranty is non-transferable to other customers or locations. Shipping costs and the labor of replacement(s) are not included.
Warranty (See Downloads)
Lifetime limited* warranty on shell, frame, door and parts to original purchaser.
Labor or installation is not covered.
Non-Ella brand faucets covered under manufacturers original warranty.
See Downloads for warranty certificate. Ask your sales agent to add the warranty changes to the invoice at the time of purchase
1. Controller Options
We offer two control options: Push Control or Digital Control. Our Push Controls are easy-to-use push down buttons that will operate your chosen jetting and any additional features.
The digital control is our more modern option, giving you a digital keypad from which to control your jets and additional features such as Chromatherapy LEDs and heated seat & backrest. Since the Digital Control is smaller, it may be more difficult for elderly to see and operate.
The Ella brand 4-fold shower screen is the best option in the industry for walk-in tubs because of the foldable feature that's not offered with a standard shower glass or curtains. This gives bathers an airy, open feeling with the option to easily push the screen aside. The lightweight glass, secured in an aluminum frame with quality gear hinges, is sturdy enough to endure rigorous daily use. Additionally, one of the 4-fold sections can be removed to create a 3-fold shower screen.
The Standard Seat Pillow Riser is designed to cover the bidet jets found in your Ella walk-in bathtub. This luxuriously thick pillow is incredibly comfortable and can be used as a riser or additional seat support in all walk in bathtubs. The interior material is washable and can be removed.
Our dual massage walk-in tubs have two air jets in the center of the seat. The U shape pillow is designed to accommodate these two bidet jets. If you want to cover bidet jets, you can utilize the regular seat pillow. This luxuriously thick pillow is incredibly comfortable and can be used as riser or additional seat support in all walk in bathtubs. The interior material is washable and can be removed.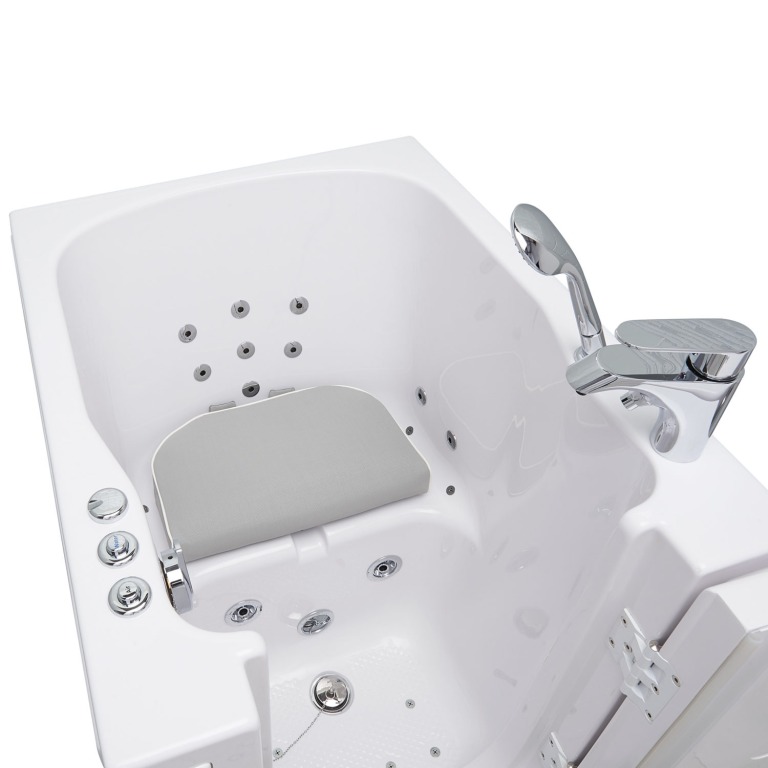 Increase your comfort with the Ella Walk-In Bathtub Headrest. The headrest can be mounted on the wall or on the deck using attached suction cups.
The Video Below Showcases the Air + Hydro Dual Therapeutic Massage Option
Gravity Driven 2″ Dual Drain Technology
The best fast drain in industry – no power required! Ella gravity driven 2″ dual drain technology with independently operated 2 openers, 2 overflows for fast and reliable drainage and exit out of the walk-in tub. This drain can be connected to 4 x two inch outlets vs. one 1 1/2″ standard bathtub drain. See details in product page downloads or visit Dual Drain Technology.
Foot & Calf Massage (Optional)
Ella walk-in tubs are equipped with 4 adjustable foot jets and 2 adjustable calf jets for maximum relaxation. These jets are strategically positioned in the lowest possible area of the floor for bathers to enjoy a powerful foot massage in a relaxed position. No need to fill the whole tub, the foot well fills in just a couple of minutes!
Ella Patented 360° Swivel Tray
One of the best features we added to this line of walk-in tubs is our patented 360° swivel tray. Whether it be a beverage or a book, you no longer have to worry about where to put the items that aid in your relaxation. This unique swivel tray adds a touch of additional convenience to complete any bath. This is available for the Elite, Royal, Petite, and the Ultimate models.