First Contact Your Local Veterans Affairs Office To Learn What Options Are Available in Your Area:
Local Office Search
1-844-698-2311
Walk-In Tubs: VA Benefits For Walk-In Bathtub Buyers

Does the VA pay for walk in tubs?
A walk-in tub can be considered an unreimbursed medical expense for VA income calculating purposes. This means the cost of the walk-in tub, is deducted from one's income, and the veteran will receive an increased pension benefit in the amount of the deduction, which will cover the cost of the tub.
To Receive Funding there are a few different grants you can apply for: HISA, SAH, and SHA.
Are walk in tubs worth it?
Walk-in tubs can cost a lot, and some companies are less than forthcoming about their expense. For many customers, though, the cost is well worth it. Cost Pros: If you live in a retirement community, a walk-in tub increases the value of your home.
What is a VA Hisa grant?
The Home Improvements and Structural Alterations (HISA) grant can be used for any home improvement necessary for the continuation of treatment or for disability access to the home and essential lavatory and sanitary facilities.
According to statistics corroborated by National Institute on Aging studies, more than a third of people over the age of 65 suffer injuries due to slips and falls each year, and an alarming 81% of these accidents occur during showering and bathing. A top-quality, professionally installed walk-in tub is one of the best preventative measures that can be taken against injuries in the bathroom, which have been found to drastically increase with age.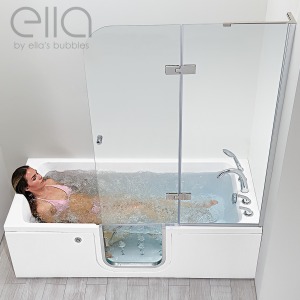 Walk-In Tubs Benefits For Veterans
This specialized and durable home medical equipment is indispensable to aging veterans, with or without disabilities, but may not be affordable for everyone who depends on it for their safety when bathing. Aging and/or disabled veterans as well as their surviving spouses can benefit from financial assistance from the US Department of Veterans Affairs (VA) for the purchase and installation of a walk-in bathtub. Lets take a closer look at what Veterans Benefits can be used on a walk-in tub.
HISA Grant
There are currently 3 grants offered by the VA for disabled/aging veterans and military service members, namely the Special Home Adaptation grant, the Home Improvement and Structural Alteration (HISA) grant, and the Specially Adapted Housing grant. The HISA grant pays for home improvements and modifications deemed medically necessary for both veterans who have a medical condition/disability at least 50% connected to their military service (the lifetime HISA grant amount is up to $6,800) and veterans who have a condition that's not connected to their service (lifetime HISA grant up of $2,000).
When a veteran applies for this benefit, they are required to provide a prescription either written or approved by a VA doctor (which includes the diagnosis as well as the medical justification for the walk-in bathtub). a completed and signed VA form, and a written estimate of costs for materials, labor, inspections and permits for the home improvement and structural modification.
Veterans Directed – Home and Community-Based Services (HCBS)
Modeled after Medicaid 's Consumer Directed HCBS, the VD- HCBS program is also referred to as Cash and Counseling for Veterans and Veterans Community Living Program and it enables veterans who are candidates for nursing home placement to prioritize their care needs, receive care in their own homes, and choose their care providers. Under VD-HCBS, qualified veterans are given an established budget and some flexibility to spend it on the supplies and services they deem as necessary. This means that veterans may use a part of this allowance to pay for the purchase and installation of a walk-in bathtub.
Aid & Attendance and Housebound Allowances
Veterans or their surviving spouses who are housebound (have permanent disabilities) or need help with their daily activities may be entitled to Housebound and Aid and Attendance Benefits, in addition to their VA pension benefits. There are two ways a veteran or surviving spouse can get these benefits (not at the same time though) – either applying in person or in writing to their Pension Management Center (a doctor's report that provides evidence is required). These allowances are among the veterans benefits that can be used to cover the purchase price and installation costs for a much-needed walk-in tub, as these have no specific limitations.
Furthermore, recipients of these VA allowances can receive financial assistance well above their current benefits to cover the walk-in tub costs. That's because such durable piece of home medical equipment can be regarded as an unreimbursed medical expense (UME) when calculating the VA income. In other words, the costs of the walk-in bathtub is deducted from the veteran or surviving spouse's VA income. They will then receive a higher pension benefit in the amount of that specific deduction, which will pay for the purchase and installation of the walk-in tub in their home.
One of the eligibility criteria for these additional pension benefits is having an income that's within the VA's limit, as the VA establishes the Maximum Annual Pension Rate (M APR) that a wartime veteran who meets certain disability or age requirements can actually receive (as of 2018, this is about $22,000). For instance, if a veteran's VA income is say $12,000, then they will receive around $10,000 in VA pension benefits which can be used on a walk-in tub. Veterans who have annual incomes above this limit can still qualify for benefits, because UMEs exceeding 5% of their MAPR can actually be deducted from their income.
If you are looking to purchase a wall-in bathtub for a disabled or aging veteran, then feel free to get in touch with Ella's Bubbles customer service team either by phone at 800-480-6850 (toll free) or via the online contact form for any questions about Ella walk-in tubs and for FREE information on pricing and financing options.
For FREE information on walk-in tub prices, features and options call
800.480.6850

or fill out the contact form today.