Caring adult children are well aware that proper in-home care is essential to their elderly parents' well-being. Here's one such example: 
"We (DYI) installed the Ultimate – Inward Swing Door Walk-in Bathtub during a complete bathroom remodel this past January – February 2020. We also installed a curb-less walk-in shower during the same project. The project was done to help care for my wife's 95-year-old father. Hands down he prefers the Ella Tub. The Walk-in Tub is well designed with the grab bars in the right place it is easy for him to get in and out of. With all the strategically located water and air jets. hygiene and relaxation are optimum for him. Although my father-in-law is the primary user of the Tub, all of us enjoy using it occasionally. Also, I would like to acknowledge the folks at Ella Bubbles that I consulted throughout the process, in particular Daphne & Sergio, a big thanks to them." – Samuel Watters
Giving parents with mobility issues the gift of safety in the bathroom of their own home is ultimately an act of kindness, love, and respect.Purchasing a high-quality walk-in bathtub for your parents is a downright necessity to keep your parents safe and allow them to age in comfort. Ella walk-in tubs integrate cutting-edge, trademark Infusion Microbubble Therapy and many other important thoughtful improvements that have established Ella's Bubbles walk-in tubs as the industry's best made and most feature-rich walk-in tubs. Ella's Bubbles is a Chicago, IL-based OEM manufacturer of acrylic walk-in bathtubs and is excited to reveal 3 main reasons why buying your aging parents an Ella walk-in tub is the best investment you can make for their physical, emotional and mental well-being. 
Reason #1,
Significantly Improving Safety in the Bathroom
Each year, more than one-third of people aged 65+ sustain injuries due to slips and falls, and more than 80% of these accidents occur in the bathroom, according to statistics and several National Institute of Aging studies. A walk-in tub is a lot safer than a conventional one, and when you choose an Ella Ultimate, Ella Lounger, or Ella Transfer walk-in tub for your aging parents, you are giving them the gift of considerably improved safety during bathing.
Ella walk-in bathtubs come with multiple standard safety features such as textured slip-resistant floors, grab bars, wide seats, low thresholds, and thermostatic control valve (exclusive to Ella inward swing door walk-in tub and the Ella outward swing door walk-in tub) to help aging parents with mobility issues bathe safely and easily.
Reason #2, Helping Maintain Their Independence
Investing in all the necessary equipment and accessories that effectively help your elderly parents continue to take care of activities of daily living (ADLs), including bathing independently is the right thing to do. When an Ella Microbubble Therapy walk-in tub is properly installed in your parents' bathroom, your parents will enjoy multiple therapeutic benefits of hydrotherapy technology for years to come. Once activated, billions of tiny oxygen-rich bubbles are released to promote a state of deep relaxation, alleviate neck and lower back pain, improve muscle function, stimulate blood micro- and macro-circulation, improve skin elasticity, and more, while also enjoying lasting warming effects.
Reason #3, Enabling Them to Stay In Their Homes
There's no place like home, and this is true regardless of one's age. It's especially difficult for elderly people to adapt to living in a care facility, which is why it's in your parents' best interest to buy them the equipment they need to be able to stay in their own homes. Remaining in their homes despite mobility issues or disabilities has a positive impact on their mental well-being, so be sure to make it easier for them to live for the rest of their lives in a dignified manner, as they deserve. Wisely choose to buy your aging parents an Ella acrylic walk-in tub to enjoy deeply relaxing therapeutic spa experiences in the comfort of their own home. They will immediately love their Ella walk-in tub as much as they love their own home.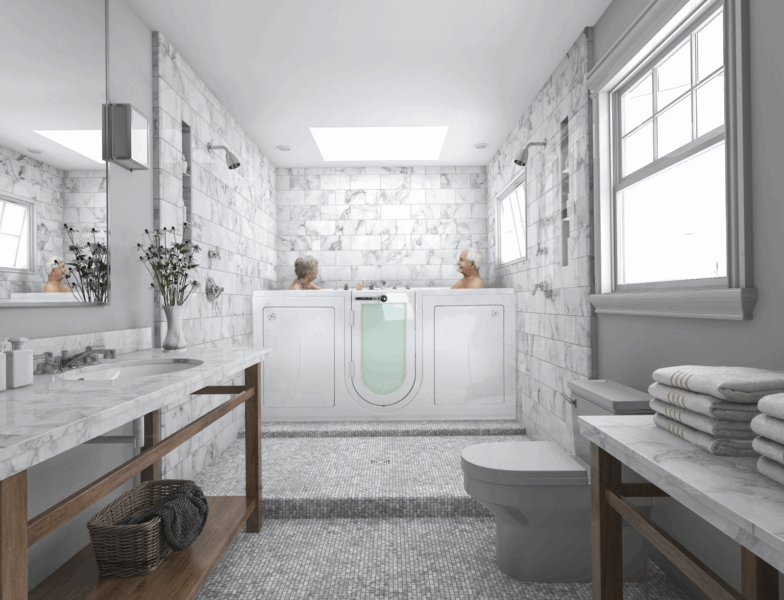 If you've decided to invest in your elderly parents' safety, independence, and well-being in their own home and buy them an accessible Ella Microbubble Therapy walk-in bathtub, do not hesitate to contact Ella's Bubbles by phone at 800-480-6850 or online, via the contact form for any queries or for FREE information on pricing. Ella's Bubbles' nationwide network of authorized resellers and professional installers can provide assistance with any residential bath remodeling project, irrespective of size, to maximize accessibility for everyone in the household. Our network also assists nursing and care homes, hotels, hospitals, institutions, and more.