How to Make Bathrooms Safe for Seniors
We may not like to admit it but, as we get older, the slippery surface of our bathtub becomes more and more of a hazard: according to the National Institute on Aging, out of the one-third of seniors who fall yearly, 80% had their accident in the bathroom.
Fortunately, there are a lot of things that can be done to make a bathroom senior-friendly and lower the risk of costly or even life-threatening injuries. We'll take a look at some of the most important steps below.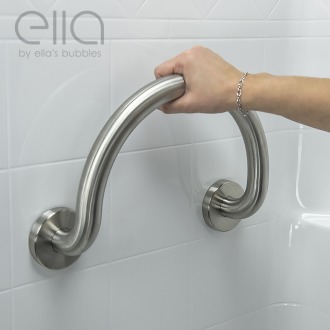 Install Grab Bars!
The first step is installing grab bars. These will help you or your loved one find balance when getting into or out of the tub, not to mention having something to grab onto if falling. One should also be installed above the toilet – it's easy to imagine a situation where the floor is slippery from a shower and the person gets up too quickly, leading to a fall. It's better to be safe than sorry!
When hiring someone to install grab bars, it's crucial to make sure they know what they're doing, as you're putting your future safety in their hands. You'll want the bars to be installed into the framing of the shower and they must be able to support your full weight.
Suction-cup grab bars are tempting as they're easier to install, but they have decreased safety value – they may rip off the wall when trying to use them! As such, we strongly caution against using suction-cup grab bars
Improve Ease of Access
The next thing you'll want to do is improve ease of access to the bathtub – unfortunately, it's easier to fall when getting into a tub the "traditional" way. You can, for instance, install a walk-in tub so that you can enter right into it without having to climb over a high threshold.
If you have a bit more money in your budget, you can get a low-threshold shower – one that has no wall, or one so short you don't need to arch your leg to get over it. These and wet rooms are great for people who need to use a walker or wheelchair. As an alternative, you could opt for a built-in or portable shower seat.
Other Ways to Improve Bathroom Safety
Since the slippery tub floor is often responsible for falls, it makes sense to install a non-slip mat. Use adjustable or hand-held showerheads so that you don't have to reach. We want to improve safety in any way possible!
As such, consider "wet-proofing" the bathroom by turning it into a wet room – these utilize tiles that are water-resistant. Carpeting should be rubber-backed and secured to the floor with double-sided tape or carpet mesh.
If your vanities are designed for wheelchair access, make sure any pipes are insulated to avoid burns. Lighting should be as bright as possible (without causing glare) so you can see what you're doing. Consider opting for LED lights as these last a long time and will minimize the risk of using a ladder to replace them.
Wrapping Up
A lot of seniors don't want to take these steps – they think it's unnecessary and don't want to feel "old." We understand! As shown by the statistic mentioned above, though, taking these steps is really important! A small insult to your pride – and one you might thank yourself for later if you find yourself avoiding a fall – is certainly outweighed by the benefits you'll receive, trust us!
We here at Ella's Bubbles are passionate about making bathrooms as safe as possible with our walk-in bathtubs. Not only do they keep you and your loved ones safe, but they come with a lot of perks, such as Infusion Microbubble Therapy to revitalize skin and therapeutic foot massages to reduce stress. If you're going to invest in a walk-in bathtub, why not make the ultimate experience as relaxing as possible? Along with keeping you safe, that's what Ella's Bubbles is here for!
Our authorized resellers and network of professional installers can work with any bathroom renovation project, whether it's in a private home or institution, hospital, nursing home, or hotel.
If you're interested in keeping yourself, older family members, or guests or patients safe with a walk-in bathtub, feel free to give us a call today at 1-800-480-6850 or contact us via our website. We'll be happy to answer any questions you may have and provide free pricing info.