Safe Bathing is our primary concern at Ella's Bubbles. A walk in tub is an important safety investment. Falling is the leading cause of injury or death among people aged 65 or older. More falls occur as people get in and out of the bathtub or shower than anywhere else in the home. The most dangerous place for older people with disabilities is the bathroom. Hip fractures among the elderly are most often caused by falls. At least one person dies every day from falling in the bathtub or shower. These deaths could have been prevented by having a walk in tub installed in the home.
Traditional Tubs and Showers Can Be a Health Hazard
The needs of older people or people who have movement problems are not considered in the design of most bathtubs and showers. In a regular tub you have to take a big step to get in or out of the tub, unlike walk in tubs. Someone with limited mobility issues can not easily take a large step into a tub. If the bottom of the tub or the floor is wet, someone can very easily slip and fall. Your risk is even greater if you have a difficulty balancing. Sliding glass shower doors present an even more dangerous situation. If you slip while in the tub and break the glass doors it can cause even more extensive injuries.
People who have arthritis or other painful conditions, can not balance well or get tired easily while standing have a lot of difficulties with a traditional showers or baths.
Easy-To-Use and Safe Door Design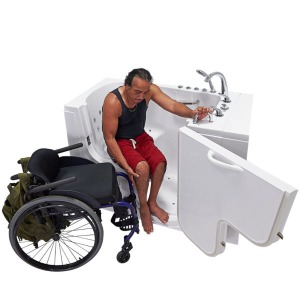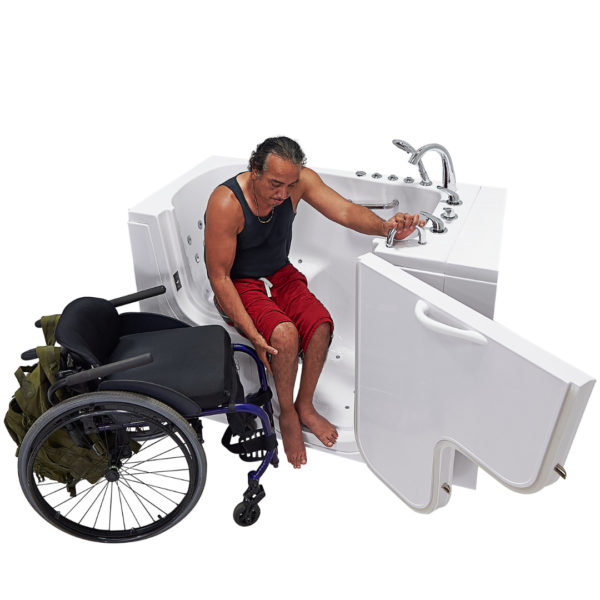 Our Ella Transfer tubs have one easy-to-open handle and they also are self-sealing. As the water pressure pushes on the door it further seals it to prevent leaks.
For bathers who require maximum accessibility, an outward swing door Transfer Wheelchair Accessible Walk In Tub is the perfect choice. We offer a variety of models to suit your home. These wheelchair accessible walk in tubs can easily accommodate larger individuals or bathrooms.
Outward swing doors benefit those who need a little extra room to enter the walk-in bathtub or those who have mobility issues and can't maneuver around an inward swing walk in bathtub. Outward swing walk in bathtubs are also the best option if you're looking for wheelchair access. Transfer tubs are wheelchair accessible with a bathtub seat height that will align with the wheelchair.
Are you in the market for a walk in tub to add safety, accessibility and security to your home?
 Call
800.480.6850
 or
Contact Ella's Bubbles now
for more information or a Free in-home consultation.  Ella's Bubbles has a nation wide  
professional walk in tub installation network
that is available to help.