You typically hear about walk-in bathtubs for seniors. However, walk-in tubs aren't just for the elderly – they can make a great addition to any home, regardless of a person's age or mobility. Here's why!
Why Walk-in Tubs are For Everybody
Conventional bathtubs with a high entry threshold are known for causing falls in the bathroom, because when combined with the wetness of the bath, they can make people miss a step or slip on the wet floor. Walk-in baths can be a great solution for anyone with limited mobility, no matter what age. They have a low entry threshold of only a few inches, which means getting in and out of the tub is very simple and much safer. This means whether you have a chronic condition or an injury, you can easily get into the tub to start feeling better. There are also wheelchair-accessible walk-in tubs available with an outward "L" shaped swinging door. All you have to do is just slide onto the molded seat and close the door!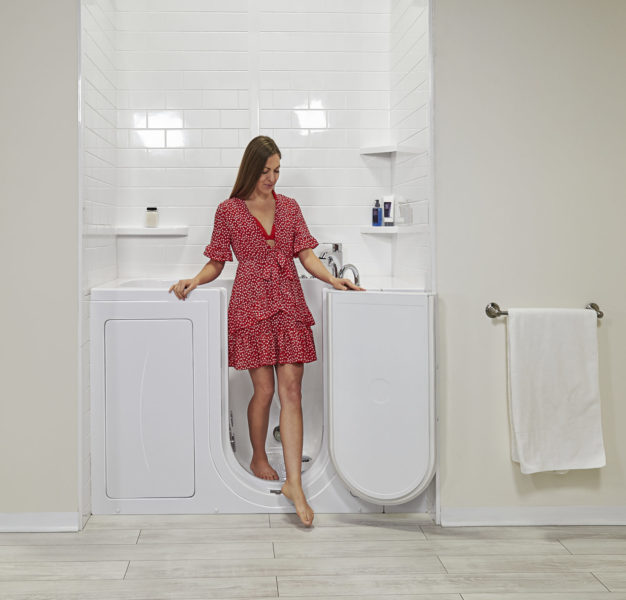 Therapeutic

Full Body Massage Jets
Many athletes are known for soaking in deep tubs after an intense workout or game. In case you didn't know, many seniors do exercises in swimming pools. The reason for both of these situations is hydrotherapy. Hydrotherapy is the use of water to help manage pain and promote healing. In fact, it has been a proven medical concept since the time of ancient Egypt. Walk-in tubs for the elderly, like conventional bathtubs, utilize hydrotherapy. However, a walk-in tub can be configured with advanced hydrotherapy options, including air jets and microbubble therapy. The combination of heat from warm water, buoyancy, and massage jets can help ease aches pains and muscle tension. Not only that, but walk-in tubs equipped with these jetting features can also help those struggling with circulation problems, arthritis, fibromyalgia, and other uncomfortable health-related issues. Warm water also releases endorphins, also known as the body's natural painkillers. Walk-in tubs are deeper than traditional tubs, and with an Ella tub, you also have the option to choose a size that best fits your needs, which allows the user to take a fully submerged bath. In addition, Ella walk-in tubs can be equipped with an independent foot massage option. If your ever in the mood for a rejuvenating foot massage, simply fill the foot well and experience a relaxing foot massage in minutes in the comfort of your own home. A true spa-like moment!
Anyone can slip and fall in the bathroom, not just the elderly. While falls do happen primarily among the aging population, we're all at risk of a spill in the bathroom because of wet or moist floors. With a walk-in tub, young people can be protected from slips and falls as well. Other than the low-entry threshold, walk-in tubs come with tons of safety features to prevent this. A non-slip, textured floor allows the bather to balance much more effectively when getting in and out of the tub. The low entry threshold is also great if you're worried about children slipping when climbing in and out of the tub. Along with that, all Ella walk-in tubs have either deck-mounted grab bars or grab bars that are installed inside the tub for added safety. Apart from installing a walk-in tub and other safety features in your bathroom, we recommend putting a mat, or rug, nearby as well. This will help you avoid potential slips on the other side of the tub. Your feet are still wet after all of the water has drained, so it's important to make sure that your bathroom floor is safe as well as the tub itself.
Walk-in tubs are designed to be more comfortable than a traditional bathtub, which is a benefit for anyone of any age. The seat itself is one of the most comfortable features. All you have to do is walk into the tub and simply sit down. There's no straining to fully submerge your body in the water, which makes taking a bath much more satisfying and comforting. The molded seat further elevates the experience by providing that extra level of comfort for your behind. Did we mention we also have hydro and air jets built into the seat, and around the tub, to elevate your bathing experience?! Because these baths are often wider and deeper than a standard tub, you can expect your comfort level to be further elevated. This means that there will be no awkward positioning of your body to get each limb underwater. In standard tubs, it can be difficult to sit securely and find the right position that allows you to rest and relax. This problem is completely solved with an Ella walk-in tub.
Walk-in Tubs Help You Age in Place
Finally, while you may not be old yet, you'll eventually get there whether you like it or not. Children and young people can enjoy walk-in baths, and they're also a great investment in your future. Aging in place is a concept where instead of moving into a retirement home, many seniors choose to stay in their own homes, whether it's for sentimental reasons or to be closer to their loved ones. This allows them to live more comfortably and on their own terms with no extra assistance. A walk-in tub means that you'll be able to age in your forever home as the bathroom becomes a safer, more inclusive place after installation. By making this modification to your home now, you don't have to worry about taking the costs out of your retirement money later on in life. Also, you'll have the ability to utilize the tub and all of its benefits as soon as possible.