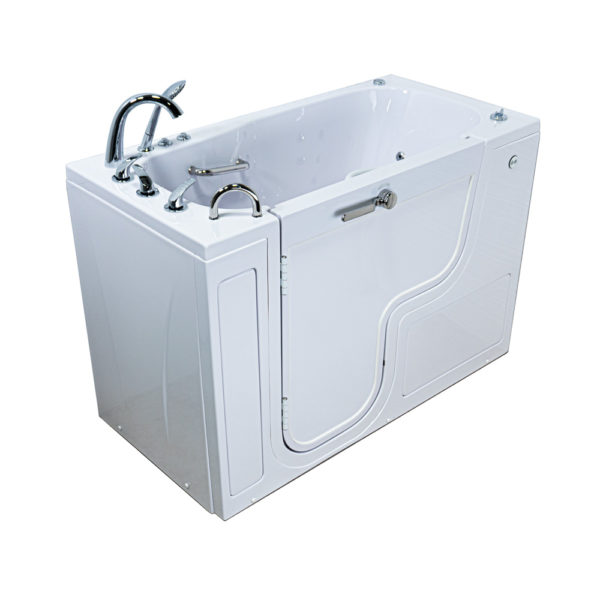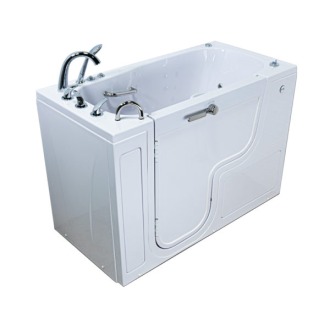 Walk-in tubs have become incredibly popular among people with mobility issues, thanks to the high level of safety features they offer than traditional bathtubs. But what aspects make Ella walk-in tubs to be considered safer? Well, below we explore some of the main differentiating safety aspects.
Bathtub height
The first thing that compromises the safety of traditional tubs is their high threshold entry, which typically ranges from 17 to 20 inches. Since you have to step over the tub wall when entering and exiting the bath, you face an increased risk of slipping and falling. The bathtubs are also characterized by slick surfaces, making you more prone to dangerous slips.
Walk-in tubs, on the other hand, come in different designs and have doors that eliminate the extra steps of getting in and out of the bath. The low threshold entry allows the disabled and seniors with mobility problems to feel more secure and enjoy their time in the bath.
At Ella Walk-In Bathtubs, there are different tubs designed with innovative features and door styles that ensure best-in-class safety. From inward swing door and outward swing door styles to wheelchair accessible walk-in tubs, you are well covered.
Balancing
When accessing or leaving the traditional bathtub, you'll need to balance your body on one leg. This presents a significant challenge, especially to people with mobility restrictions.
As we mentioned above, some of the walk-in tubs at Ella's Bubbles feature doors for effortlessly entering and exiting the bathtub. It is easy as taking a step in or out. What's more, there's an anti-slip material on the floor and seat to provide just enough grip inside the interior of the tub.
While soap can make the tub a little slippery, you still have the grab bars to hold on to whenever you want to move without risking much on your balance.
Adjusting position
Some of the people with mobility issues will find it quite hard to adjust from a lying position to an upright comfortable position, and vice versa. Unfortunately, this is what usually happens when they soak in a traditional tub. They have to reach a lying position before adjusting.
There are categories of walk-in tubs with comfortable seats of different heights and adjustable controls to meet your unique needs. And in line with that, the Hoist Transfer Bathtub, Ella Ultra, and S-Class Acrylic walk-in tubs are examples worth your consideration.
The Ella brand walk-in bathtubs with built-in seats are engineered in a style that allows you to get submerged to chest or shoulder level without compromising your safety.
Want a more calming experience overall with many therapeutic benefits? Take advantage of a tub featuring the Infusion Microbubble Therapy.
Get in touch with Ella's Bubbles
Using walk-in tubs is not only easy but also safer than traditional tubs. If you're considering purchasing a walk-in bathtub or have any questions, get in touch with Ella's Bubbles at 800-480-6850. Alternatively, you can request a FREE quote online.
We have authorized resellers and professional installers nationwide, dedicated to making bathrooms accessible to everyone. The size and complexity of your bath renovation project don't matter! Whether it is a hotel, hospital, residential, commercial, nursing home, or care home, we will meet and even exceed your expectations